If you want to consider yourself an advanced user of Android you will need to have all these apps installed on your phone. This list includes the best tools you can find for the Martian's operating system right now, essential applications that should not be missing on your mobile under any circumstances. Whether it is social networks, messaging tools, to watch movies or listen to music, to use public transport or to travel, there is surely an app made for you. We tell you what are the Best free Android apps in 2020 and we make it easy for you to download if you are missing any.
Essential apps in 2020 for Android
This could be a list of apps that absolutely nobody knows and are useless. Instead, you better gather all the useful apps that allow you to talk to your friends, enjoy your free time and be happy for the next few months.
TikTok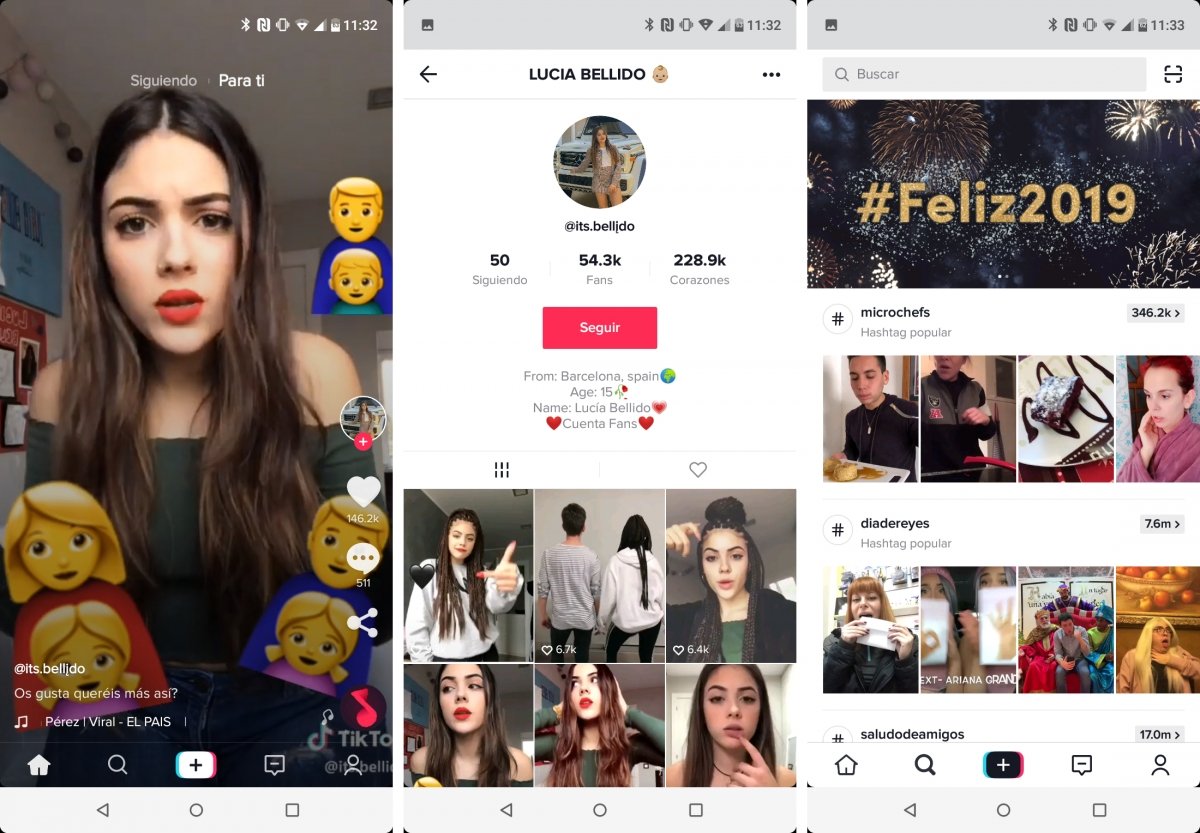 The last of the social networks that has achieved a good market share is TikTok, a platform that departs from everything known so far. Here the thing is to record videos doing clunkers , and if they are musical better than better. It is a phenomenon among the youngest, who find here the perfect place to record themselves singing and dancing and then share it with their contacts.
Spotify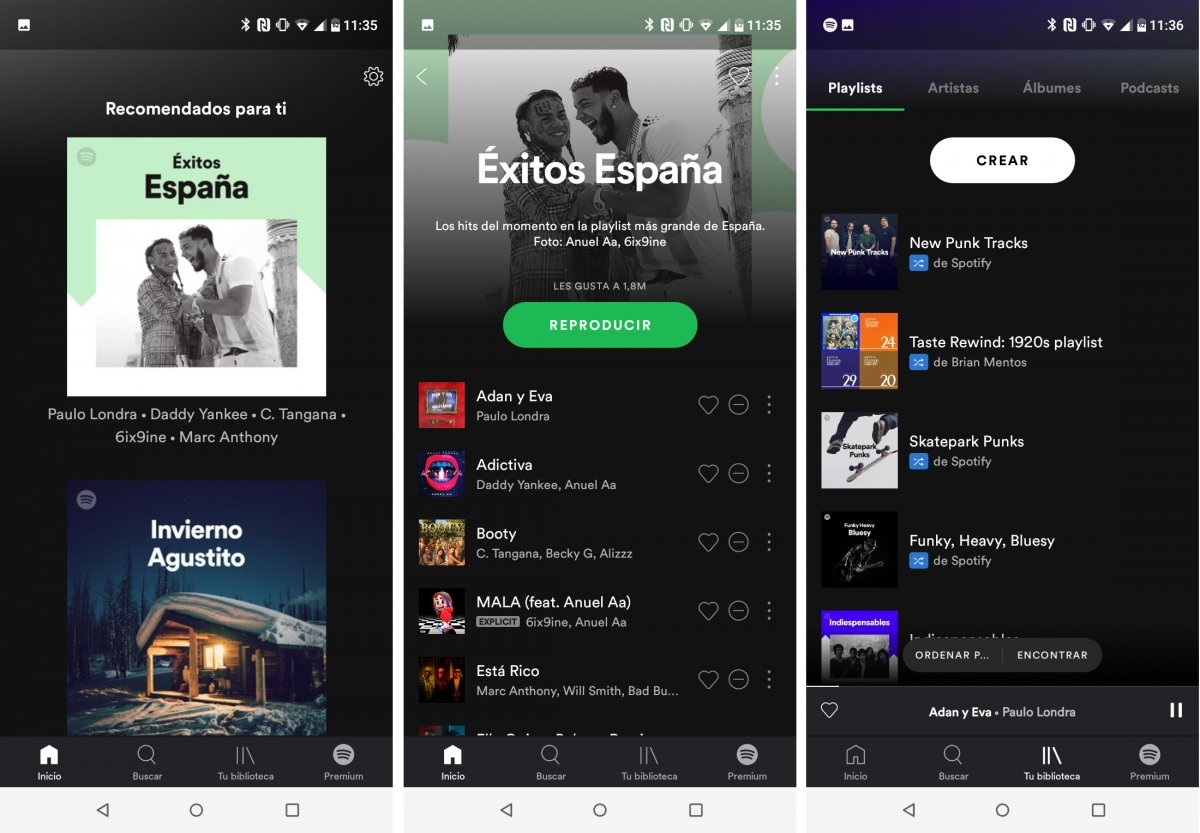 It is the most popular streaming music platform and is also available on Android thanks to its app. Here you can find and listen to the songs of practically all the artists you can imagine, an immense music library and always available to your ear.

Netflix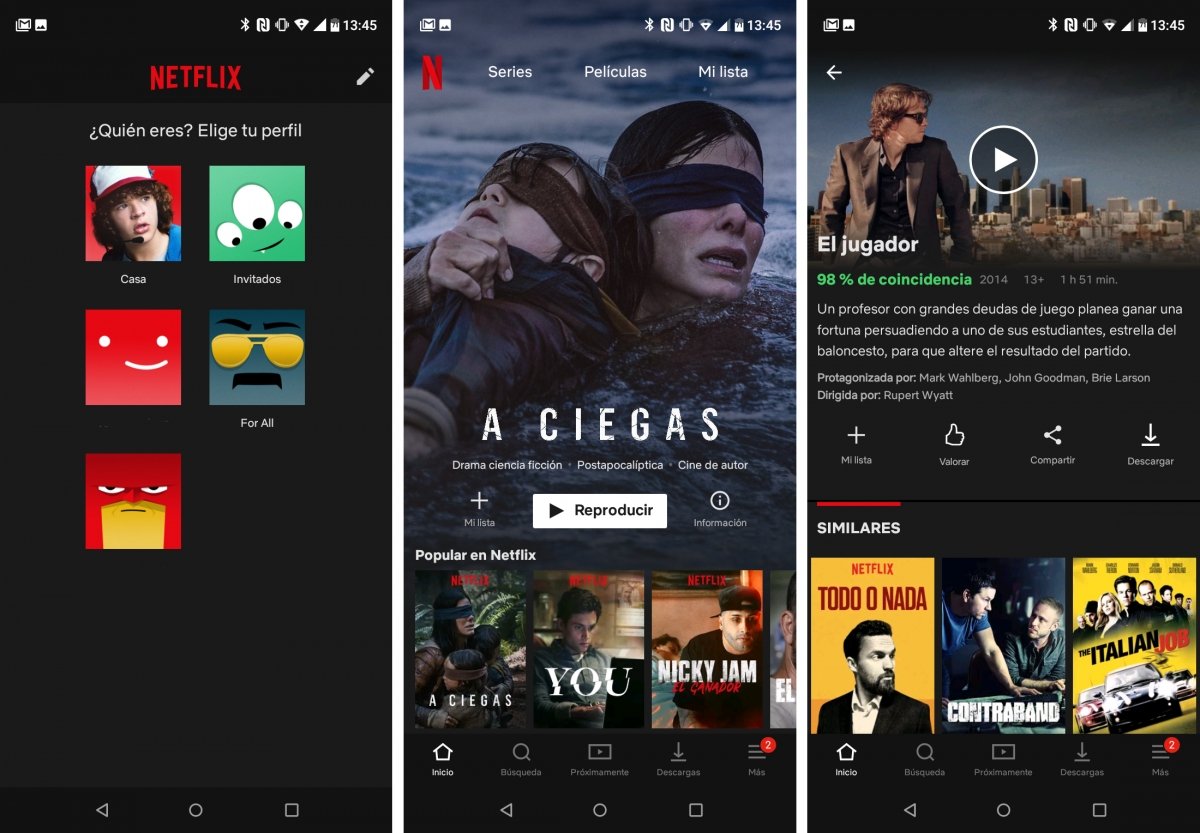 Video streaming platforms are relatively new to us, but in a short time they have made a significant gap. Netflix is ​​possibly the best known, and to this end contribute the own production series that they broadcast and that have been very successful such as Narcos or Stranger Things.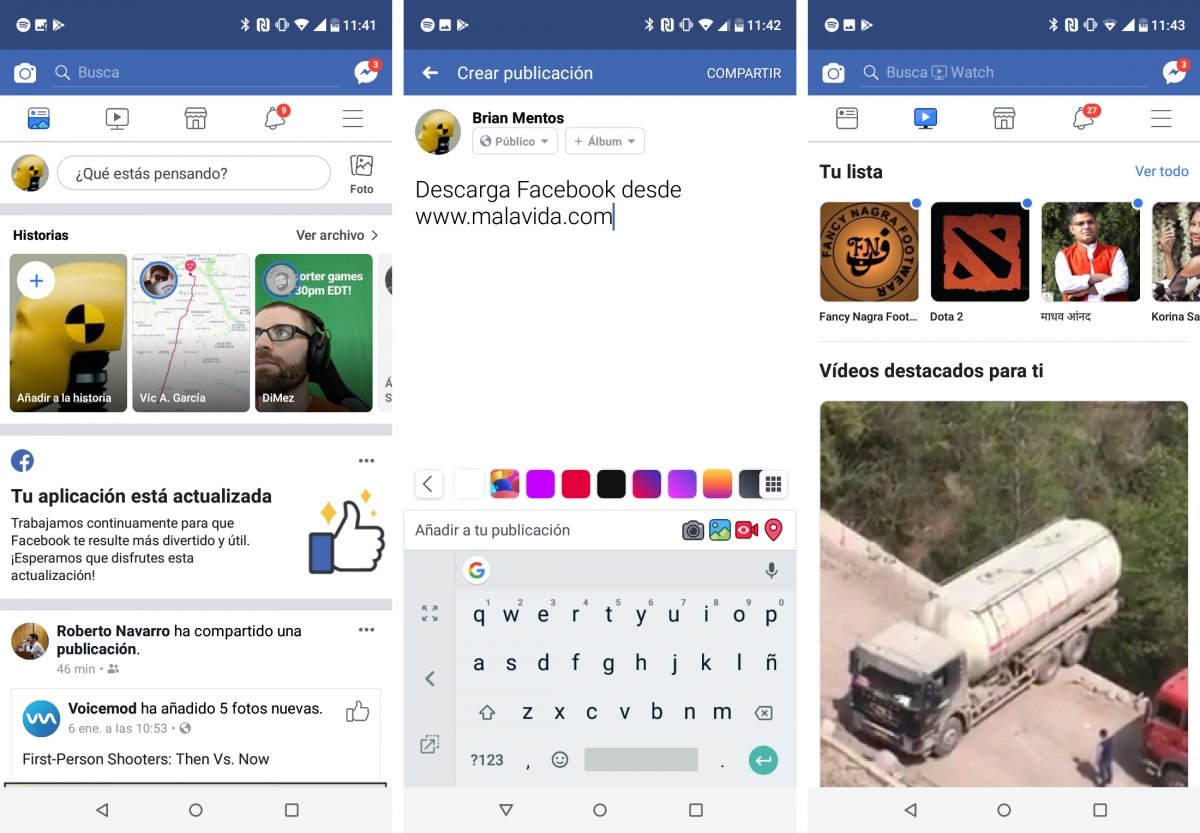 Despite all the problems related to elections, Russia, data theft and espionage, Facebook is still the quintessential social network . Yes, there are more and more users who decide to abandon their ship, but it is somewhat residual because the vast majority of people continue to enter daily and share content. If you do not mind that all the battery and your data are eaten, it is essential.
Facebook Messenger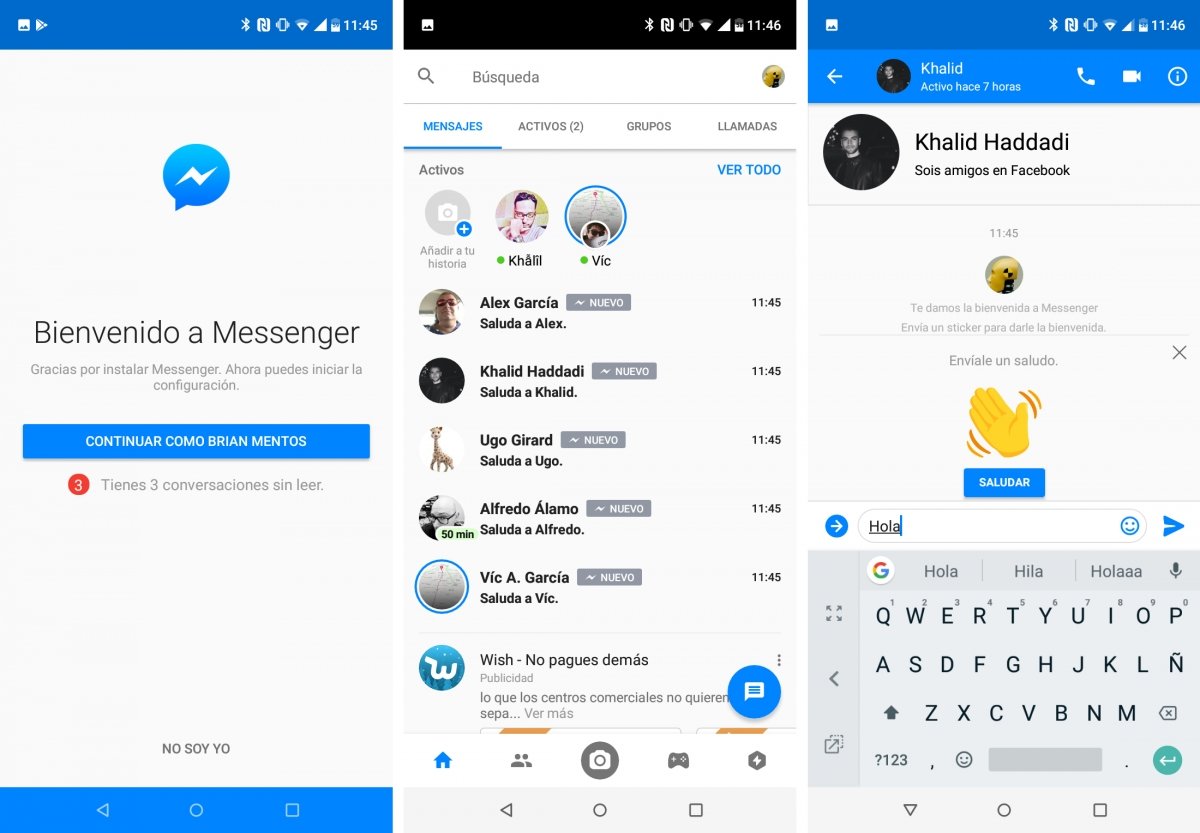 If the social network is necessary, your particular Messenger is even more so. On the web everything is unified, but on Android Facebook and Messenger, although they are related, they go separately. If you want to chat with your Facebook contacts this is the only way to do it (that or convince them to change the messaging app).

WhatsApp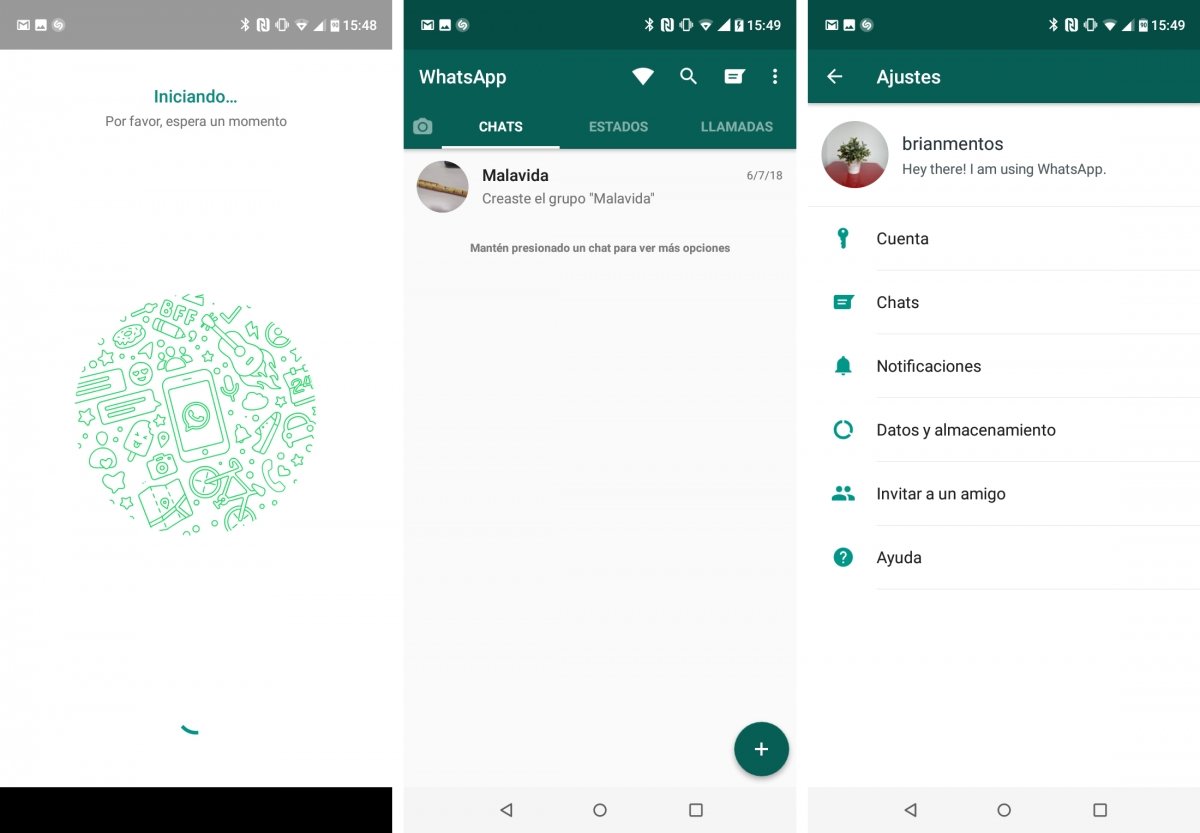 Little to say about WhatsApp, the undisputed leader of instant messaging for years and possibly for many more in the future. Since it was bought by WhatsApp, it works under its umbrella (raising suspicions of all kinds), but the truth is that it has no rival, no matter how much Telegram or other alternatives come to light. Everyone has it, so it is essential that you have it too.
Telegram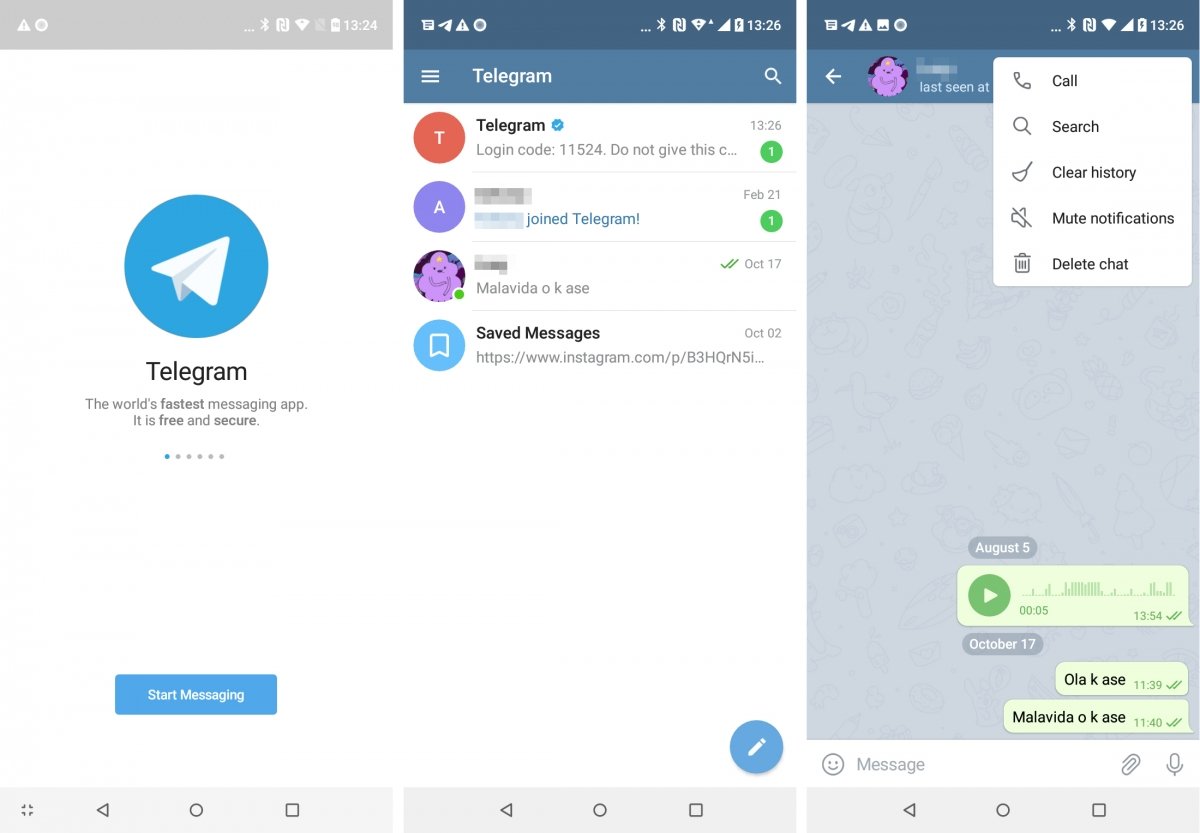 When someone daring looks for alternatives to WhatsApp, Telegram always appears as the main option. It is clear that nothing and nobody can compete with the Facebook product in users and reach, but Telegram provides several very interesting things . To start with a more transparent security policy, continuing with more advanced personalization functions and ending with better cross-platform integration. Enough reasons to give it a try … and invite your contacts to do so too.
Instagram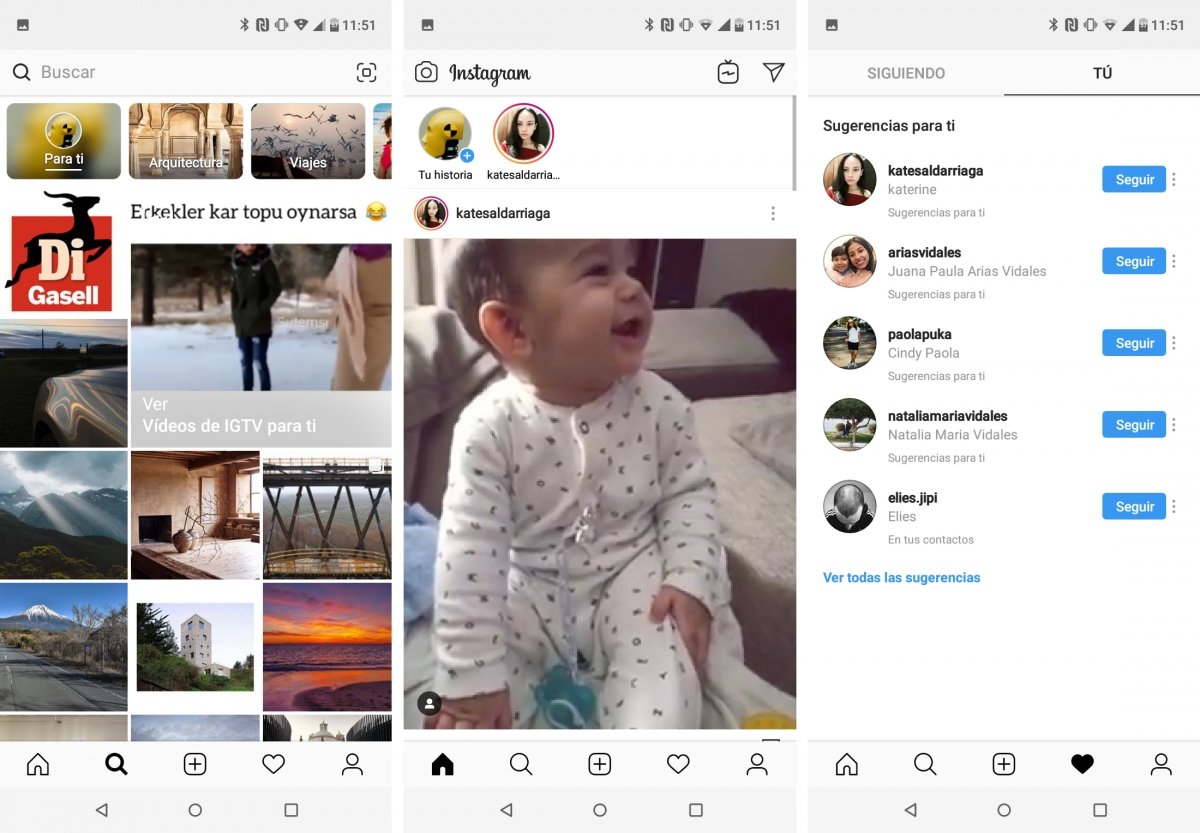 The quintessential photo social network has become a refuge for users who are not happy with the future of Facebook or Twitter. Instagram allows you to hang all kinds of photos on your wall , but also videos taking advantage of its IGTV platform. Special mention for stories, short videos that can only be seen for a few hours and that are perfect for telling our contacts and followers about our day to day.
Youtube
If it is to watch streaming videos on the Internet there is no rival. YouTube is an indispensable app to access the portal and be able to comfortably see all the uploaded videos. The design of the app is logically based on the peculiarities of mobile phones, so you will find an interface perfectly adapted to these devices.
Nova Launcher
Application launchers are an easy solution to customize the appearance of our operating system and its behavior under certain circumstances. Nova Launcher is among the most popular and used, offering you all kinds of advantages: customize the Home window, your app icons, animations … It also offers extra functions to perform backups. The perfect way to make your phone go faster.
Google Maps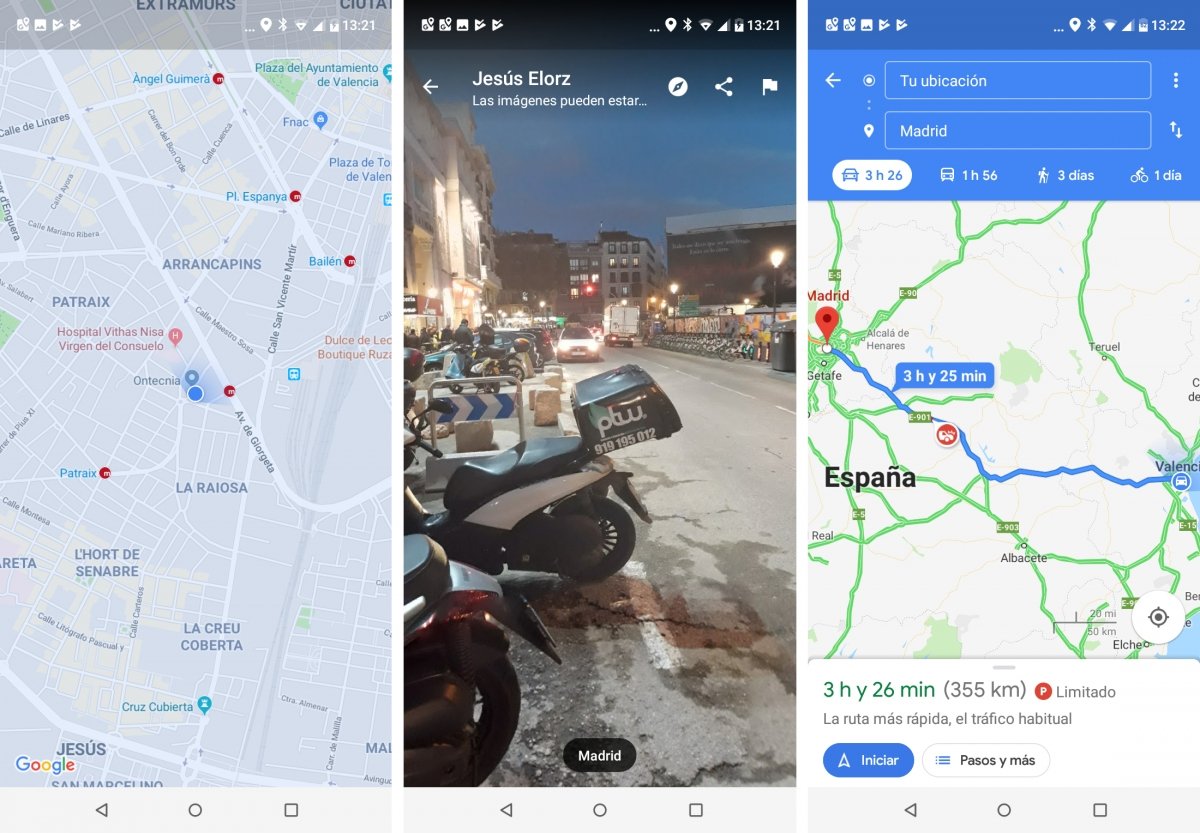 Essential on any Android worth its salt, Google Maps allows you to consult maps of the world , calculate routes and routes, know the duration of your trips and even buy airline tickets. To all this you must add the perfect integration of Google services in the maps, so that you can find at a glance hotels, restaurants, areas of interest around you … The leading tool without a doubt on the subject of cartography.
Shazam
Don't you know what song is playing? For these cases Shazam is unrivaled. The musical genre you like must be very minor so that it is not able to recognize the melody that brings you down the path of bitterness. An essential app for audiophiles.
Chrome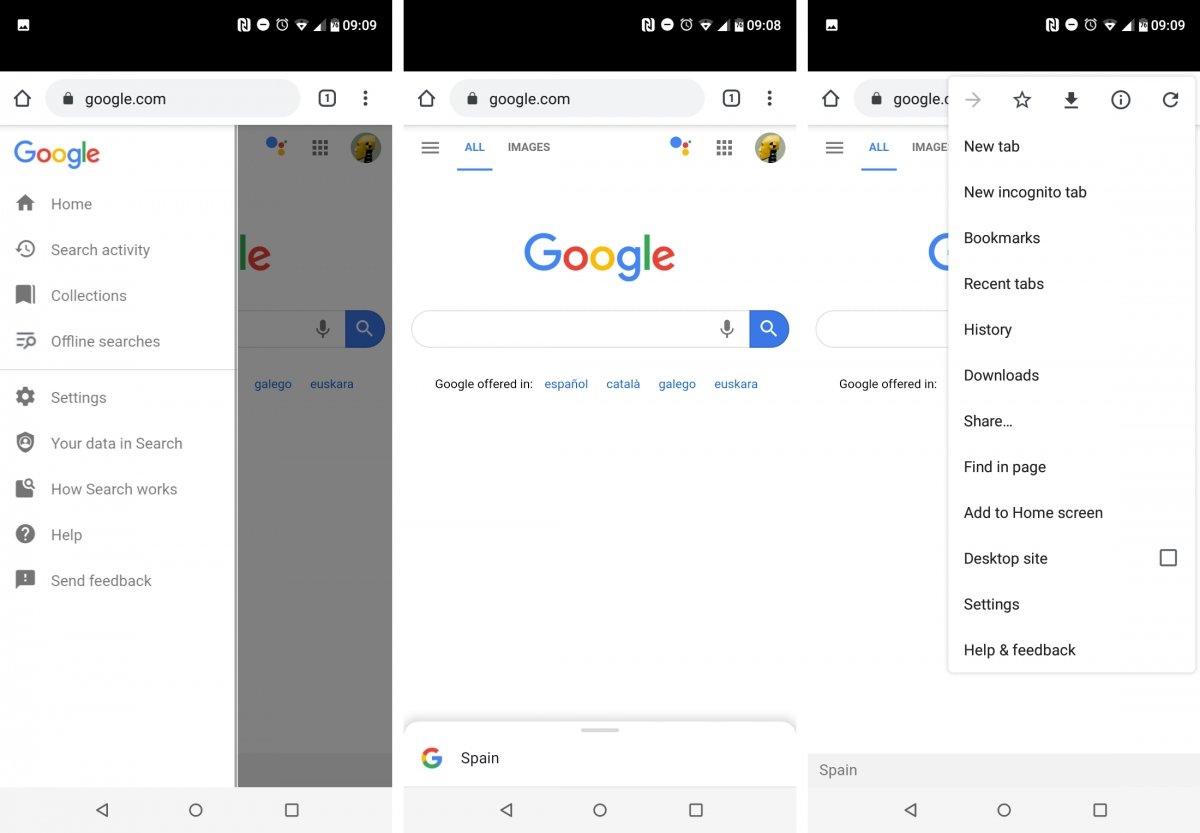 It is a no-brainer. And we probably all already have it installed at the factory. But if you don't have a web browser, or don't use it, you won't be in front of the best. Another thing is that you are interested in some specific function not present here, or that you directly disown the Google ecosystem. If it is not the case, Chrome is the best you can use on your mobile to surf the web.
Megadede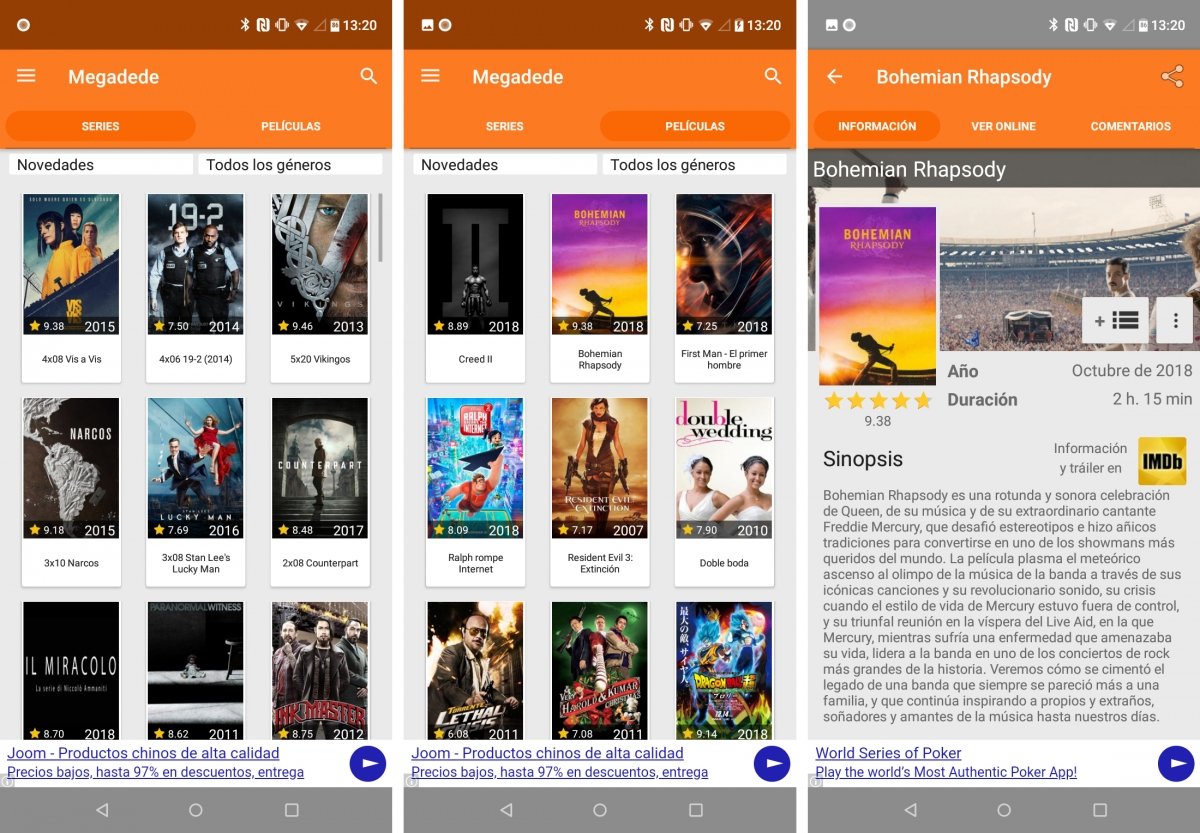 Right now Megadede is the best app out there to watch series and movies in Spanish . These types of apps are highly persecuted (in fact Megadede is the successor to others that fell), but it works perfectly with the most widely used method in this field: linking to streaming content hosting platforms.

Evernote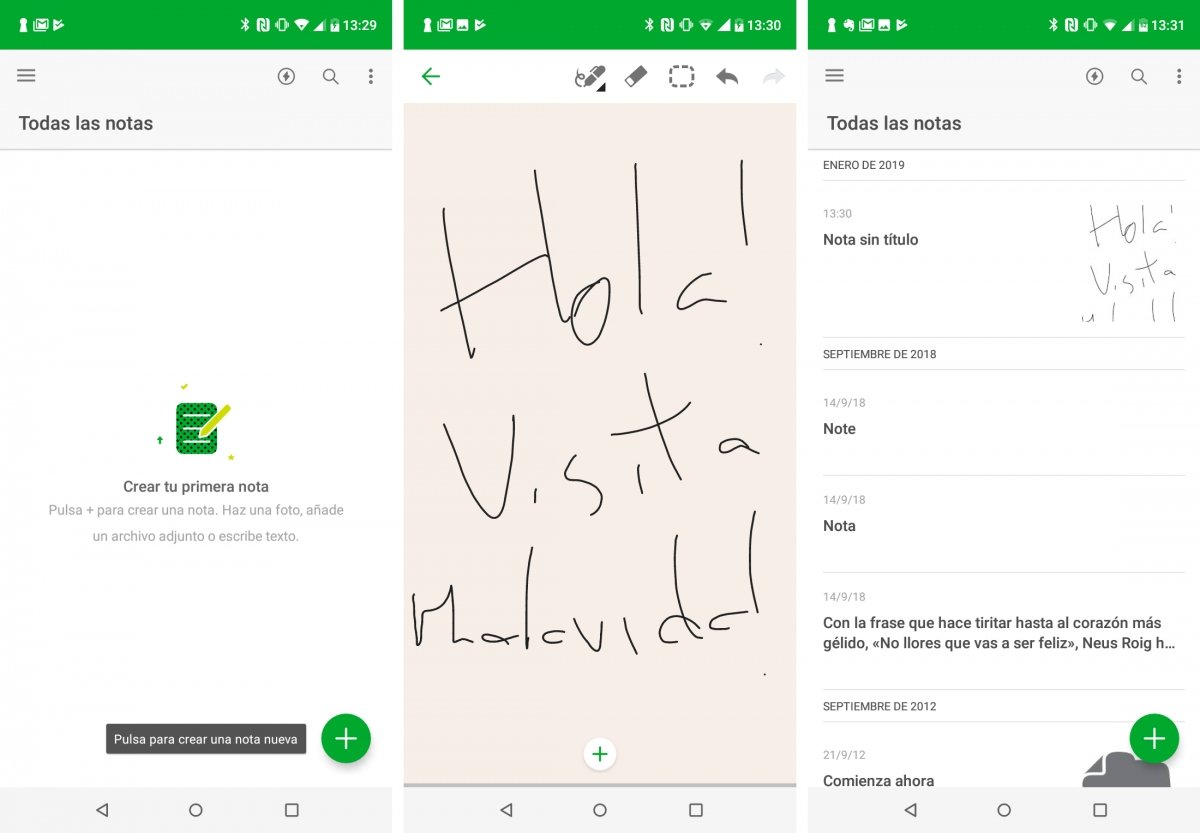 Evernote is the favorite notepad of millions of people around the world. There are many such apps, but this one has earned that leadership by offering a multitude of functions, including synchronization with clients of computers or other operating systems.
Tinder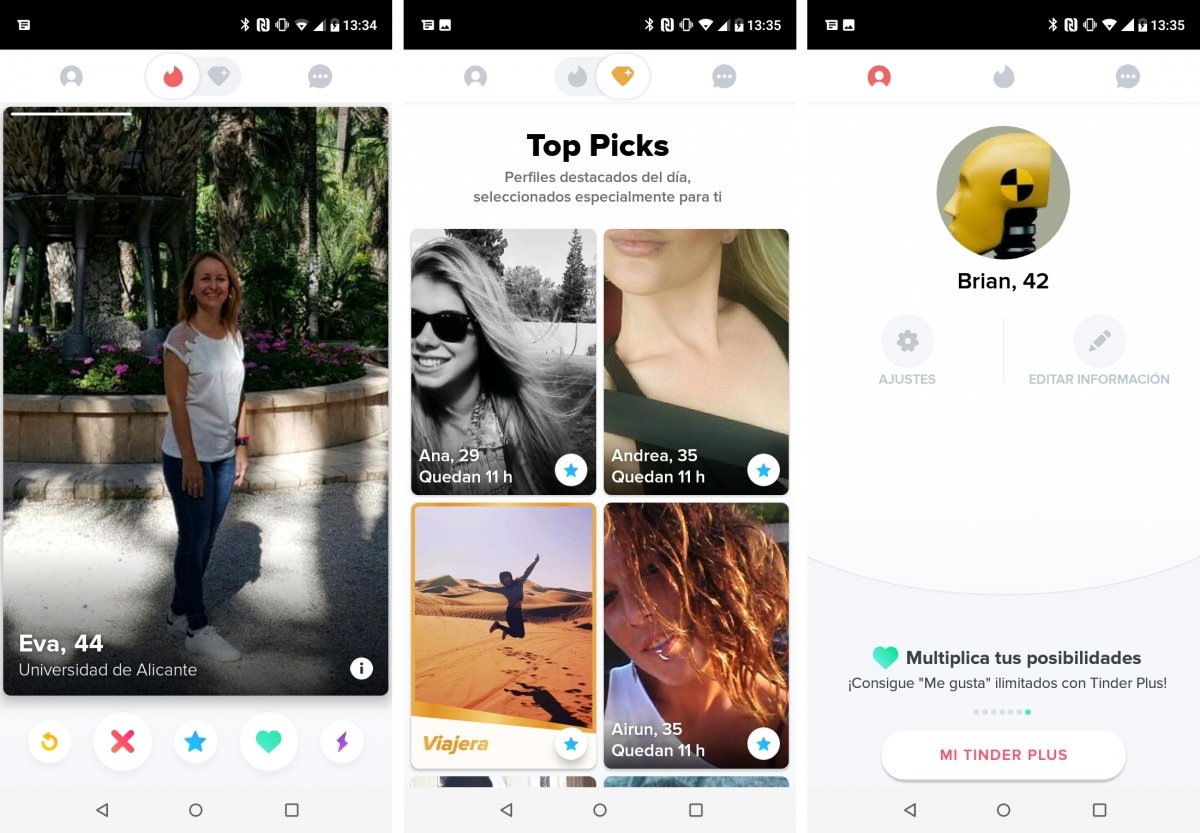 How things have changed when looking for a partner . No more going to bars and clubs in search of our better half, on Tinder you can create a detailed profile with photos, tastes and hobbies and launch yourself into the singles market. Swipe left or right depending on whether you like a suggested person or not and wait to see if there is reciprocity between the two: if a match occurs you can contact that person and meet to "have a coffee", as a friend of mine says .
ES File Explorer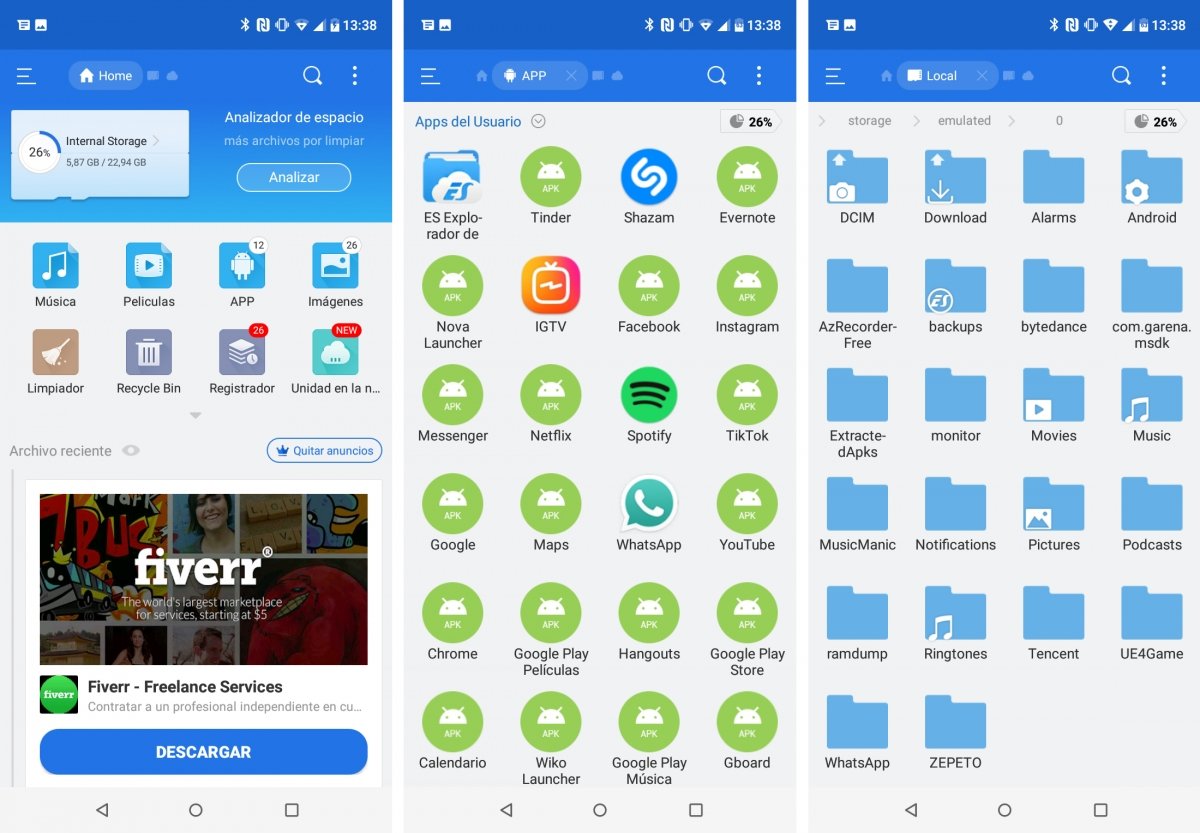 There is one thing that is very annoying on Android: access to the system folders and files. Yes, it is possible to do it with the factory phone, but it is best to have a file explorer dedicated to these tasks, and ES Explorer is the best you can find. A must for anyone who wants to access the bowels of their operating system.
1Password
In the Internet world everything is passwords: to access the mail, to your favorite websites … It is physically impossible to remember all the passwords we create (unless you always use the same one, which is not recommended for security reasons). With 1Password you only need a master password to access all the others, so it acts as a safe . Of course, make sure that the master key that you are going to create is robust enough not to find yourself in the same problem as before or even worse, since here you can name all the services in which you are registered. In this case we do not show you an image: for obvious security reasons the app itself prevents you from taking screenshots of its interface.
Zepeto
Zepeto is an app where you can create a virtual version of yourself and interact with many other users. Choose even the smallest detail, contact other Zepetos and enjoy performing the challenges that arise: a different and casual social network that is causing a sensation, especially since you can export your Zepeto to other apps. The latest versions have added cool features that you should try.
VLC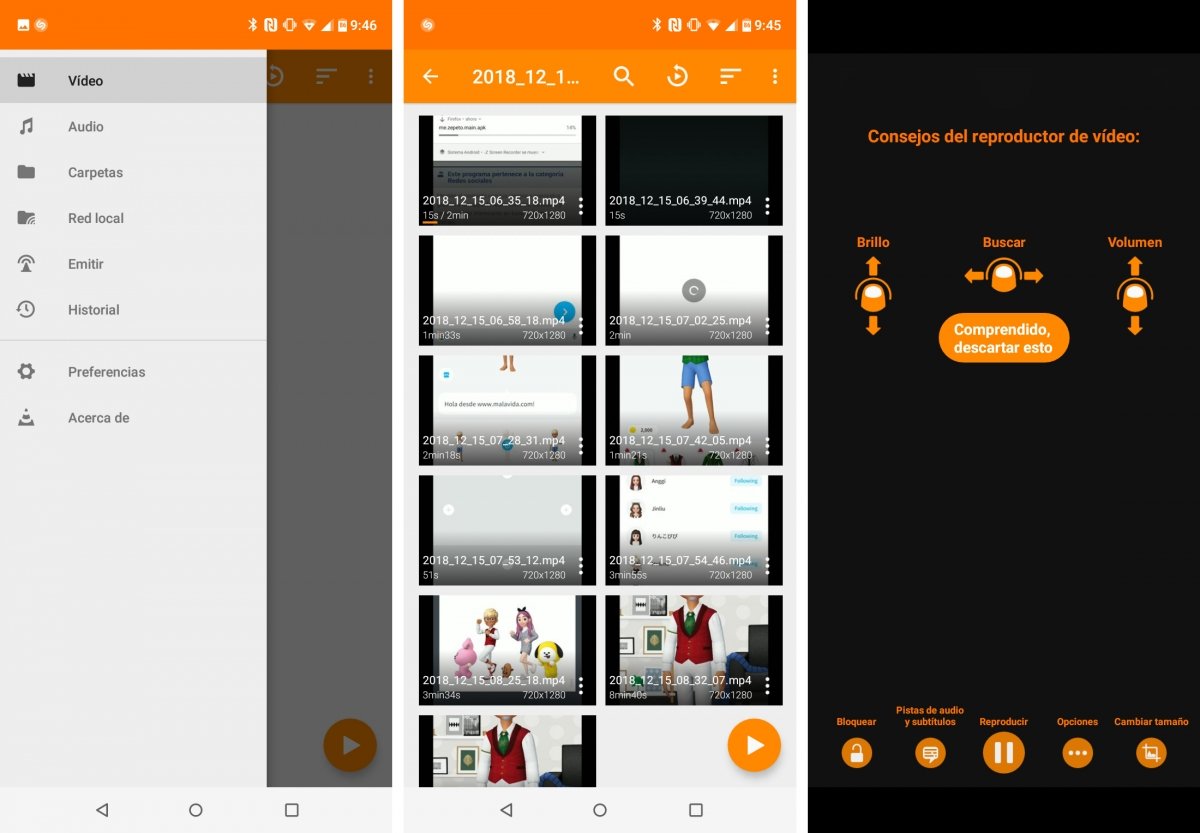 There are many media players, but possibly none like VLC. It is essential on computers, it must also be on your mobile. Forget format compatibility issues and other obstacles to playing all kinds of video and audio files. If you add to that your options to tune in to broadcasts in streaming you have the perfect player.
Glovo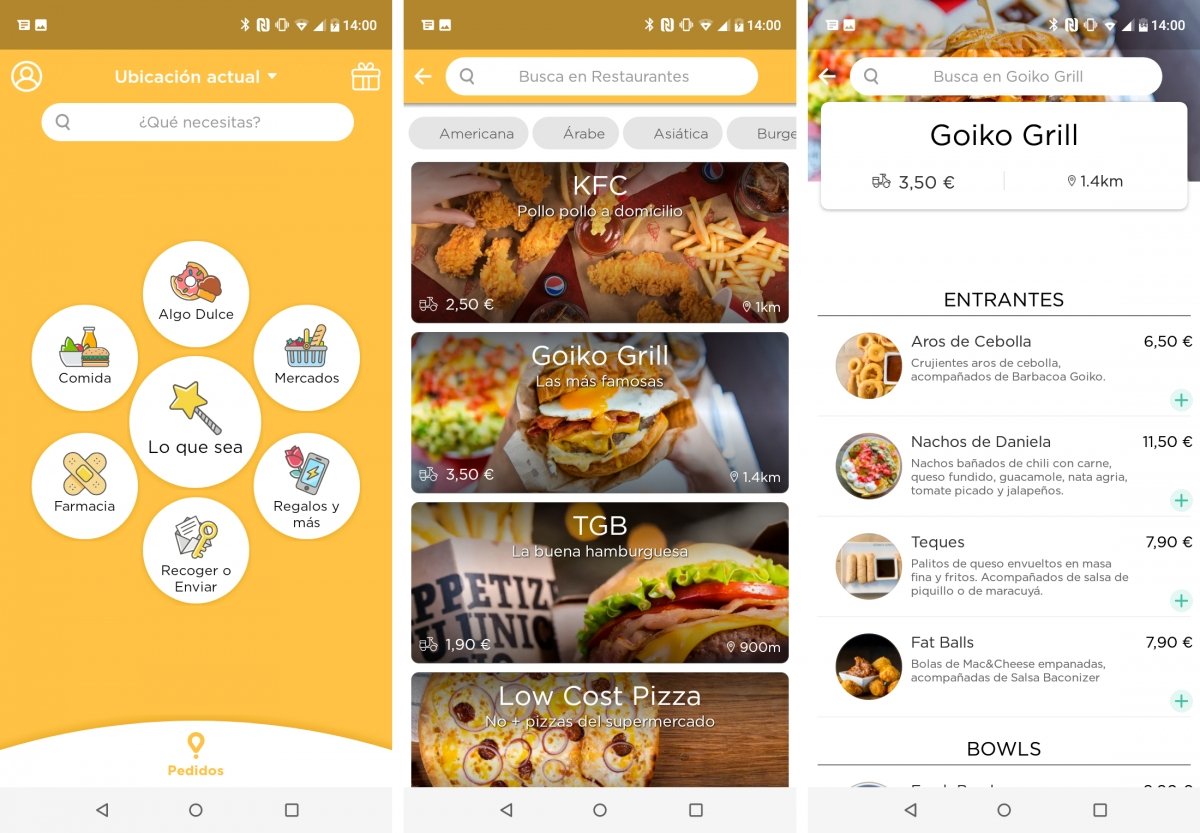 Food delivery is not something new, it has been with us for more than 50 years (one of the best Yankee inventions of our time). There are many such apps, but Glovo has broken schemes for a simple reason: it is not necessary for the locals to register, you simply ask for that little mouth and they bring it home , whatever it is. Its operation is limited to large urban centers, but the service is impeccable, beyond labor issues with its delivery people. In addition, they do not only bring you food: if you run out of ass paper, they can also bring you to almost the same toilet.
Cabify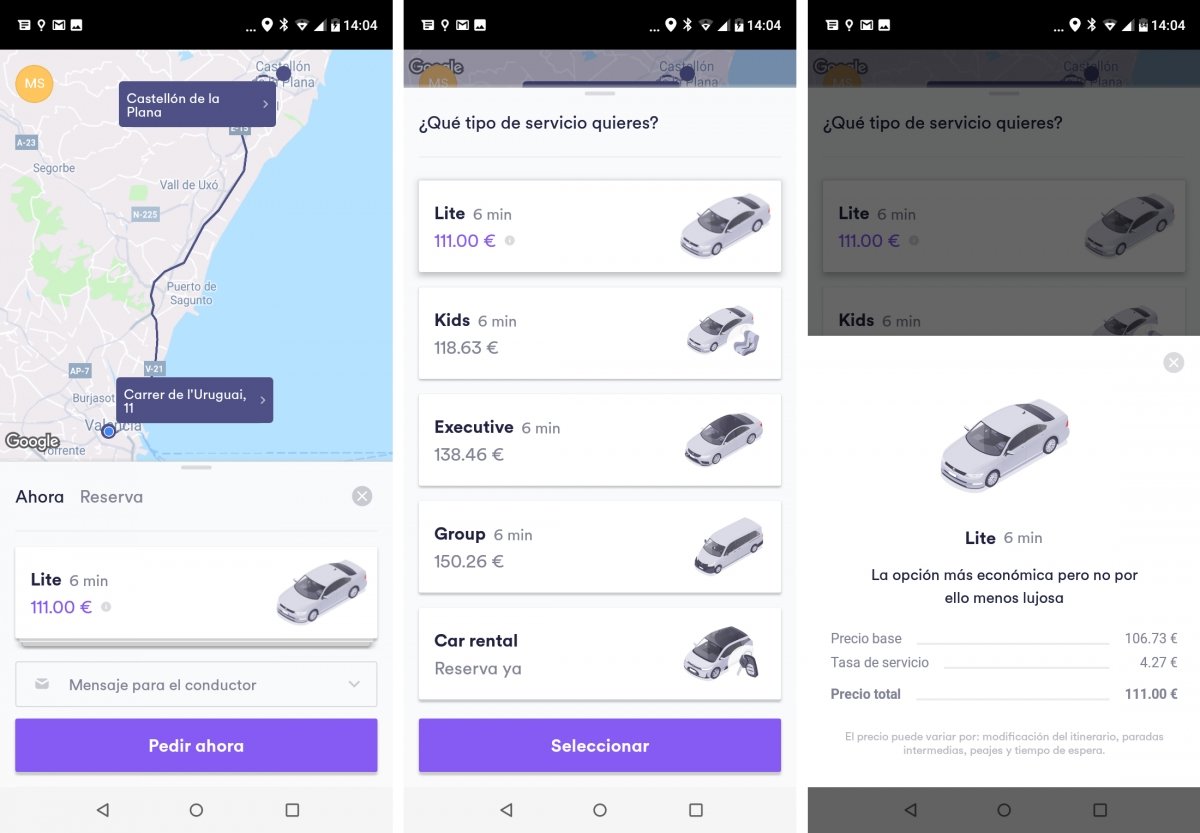 Another sector revolutionized with apps is that of transportation. Cabify puts drivers and travelers in contact to share the journey in exchange for a small amount. You run the risk of finding a real heavy at the wheel, but in most cases what you get is to travel cheaper and make friends along the way.
Uber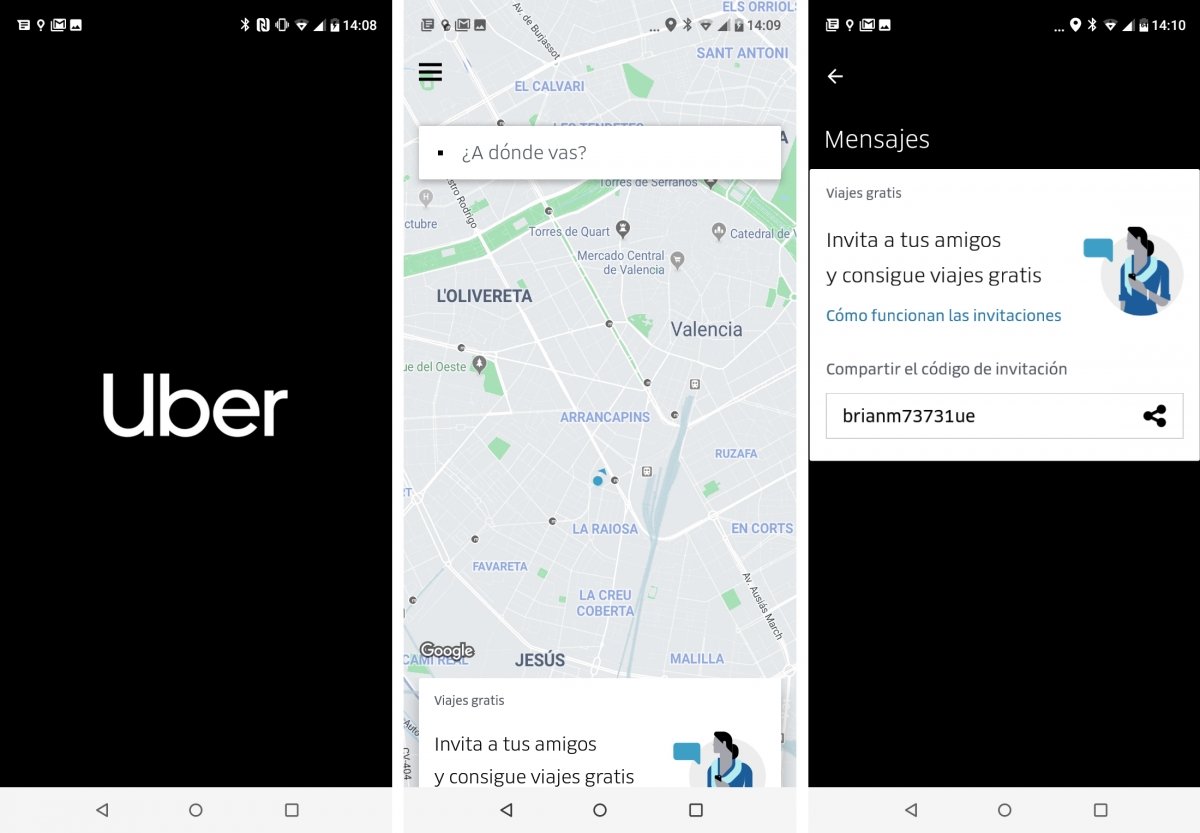 It was the first vehicle transport platform to appear and perhaps for this reason it is the most hated among the transport union. Its landing in our country has been progressive, and in fact not all cities have the service at the moment. In addition to passenger transport, they have diversified their business to also transport merchandise and even food. If there is Uber in your city, you should have its app installed.
FREE NOW (MyTaxi)
FREE NOW, formerly known as MyTaxi, is the solution in app format for passenger transport launched by the taxi sector itself, one of the most affected by the appearance of all these mobile platforms for making trips. What better way to compete against Cabify or Uber than with your own app that uses the entire fleet of taxis already available.
Snapchat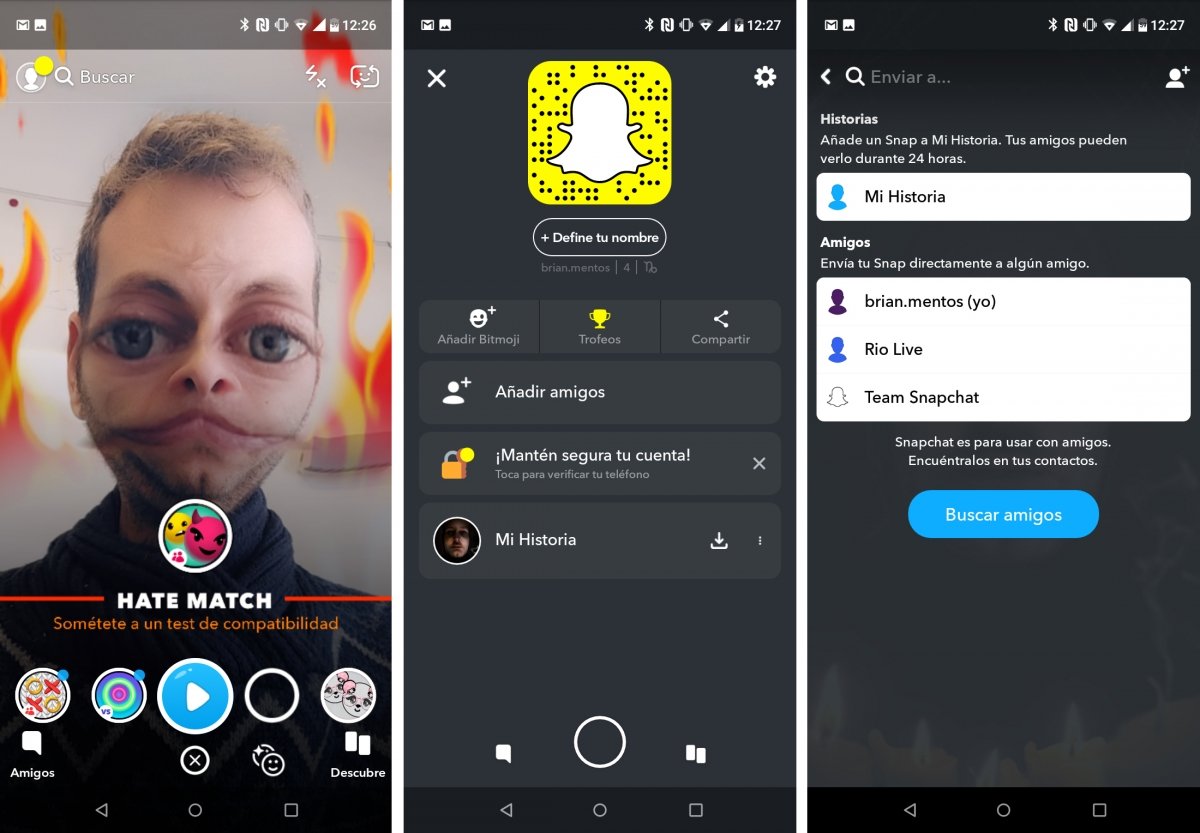 One of the few successful social networks that is not in the hands of Facebook (despite having tried to buy it in the past) is Snapchat. Here the subject tries to take photographs and share them, with the particularity that these images have a useful life of just a few hours .
Airbnb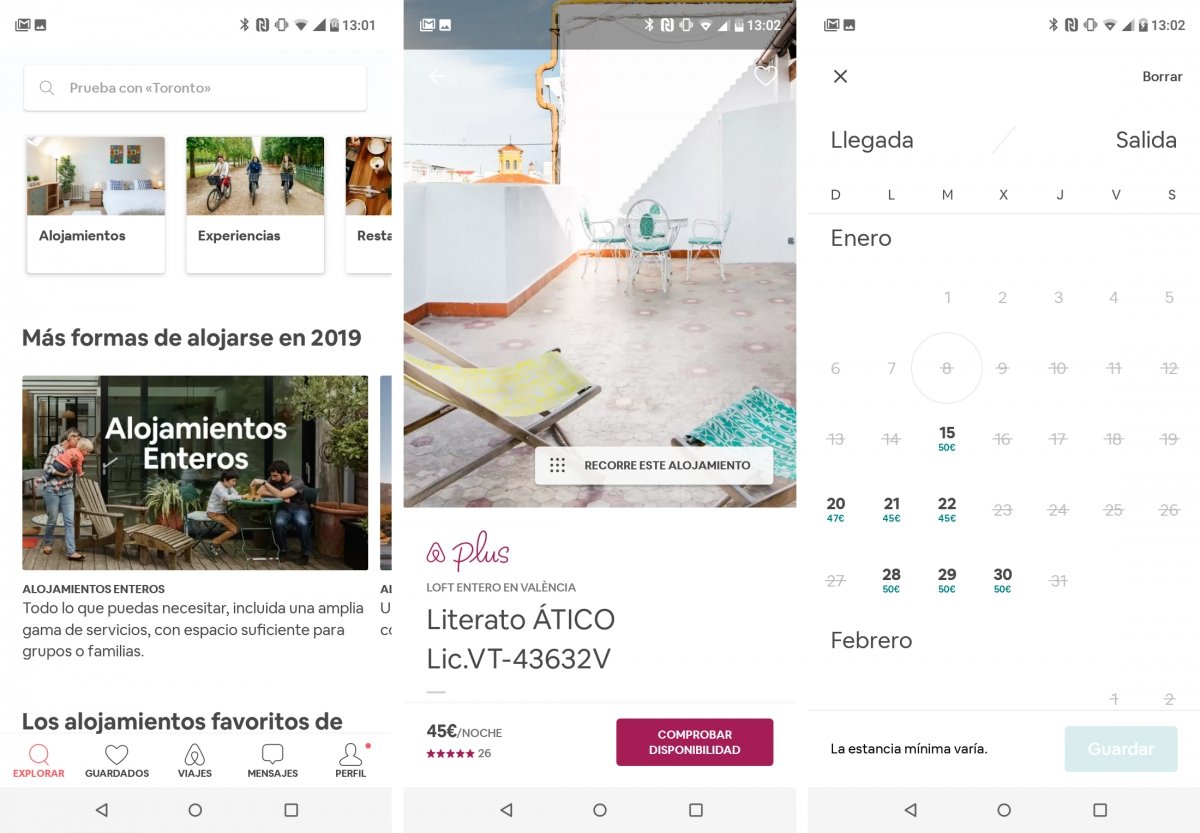 Airbnb has also revolutionized the world of rental by giving individuals the possibility of putting their homes on this market. Its success is unquestionable insofar as it makes it possible to put individuals in contact for accommodation, making it a real alternative to lifelong hotel beds . Beyond legal regulation and other problems, there are, it is perfect whether you go on vacation or want to earn extra money by renting your house. There are offers of all kinds, from the cheapest to authentic mansions.

Swiftkey
Sometimes the Android keyboard is not enough for our needs, or we look for different functions. There are several third-party keyboards that may interest you but Swiftkey is one of the most used. Word prediction to speed up typing, real-time spell checking, tons of themes and styles, and support for over 300 different languages.
Dropbox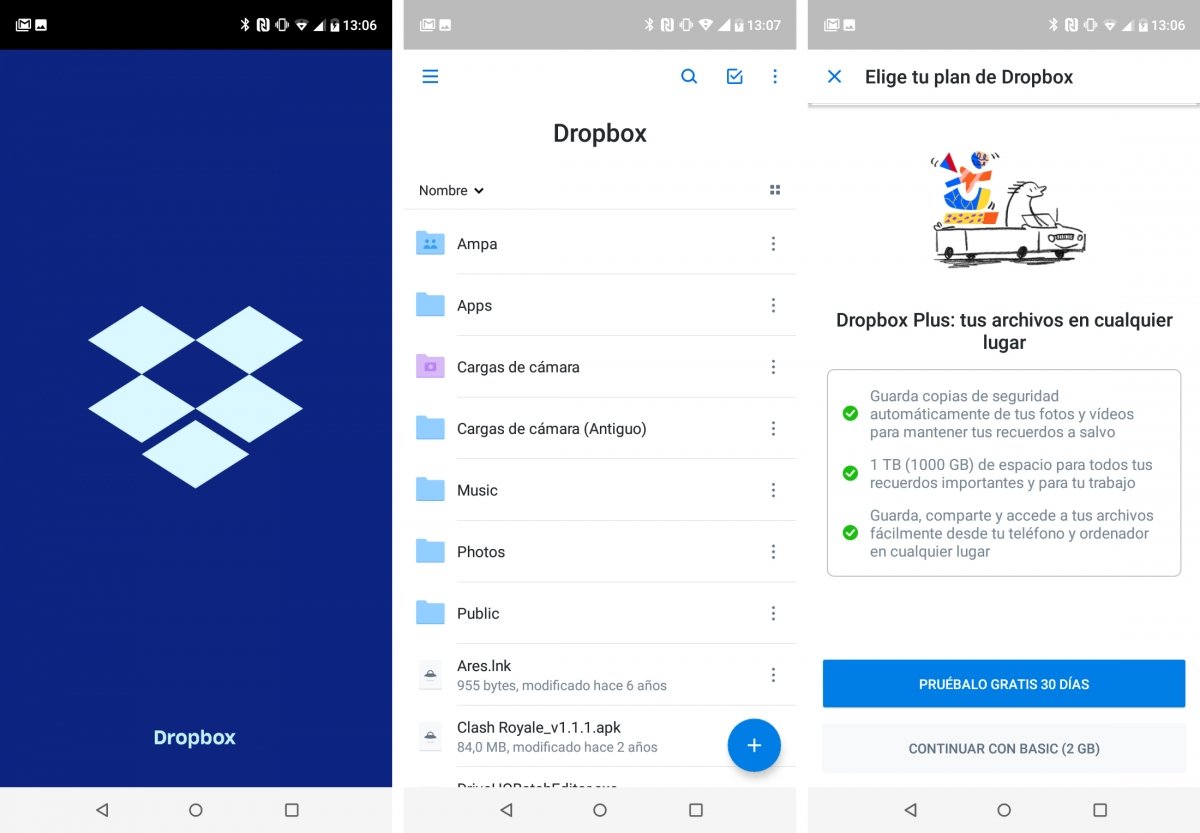 One of the most popular cloud storage services . You can save all kinds of files on the Internet and access them from anywhere with a connection. You can also share files with other users, either by creating shared folders or generating links for direct download.
Amazon
The mother of all stores for online shopping has its own app so you can easily access the catalog and be able to buy instantly. If you have an account it is essential, and if you do not have it you should already be creating it. At Amazon you can find everything, in fact the saying "if it is not on Amazon it does not exist" has already become popular.
Twitter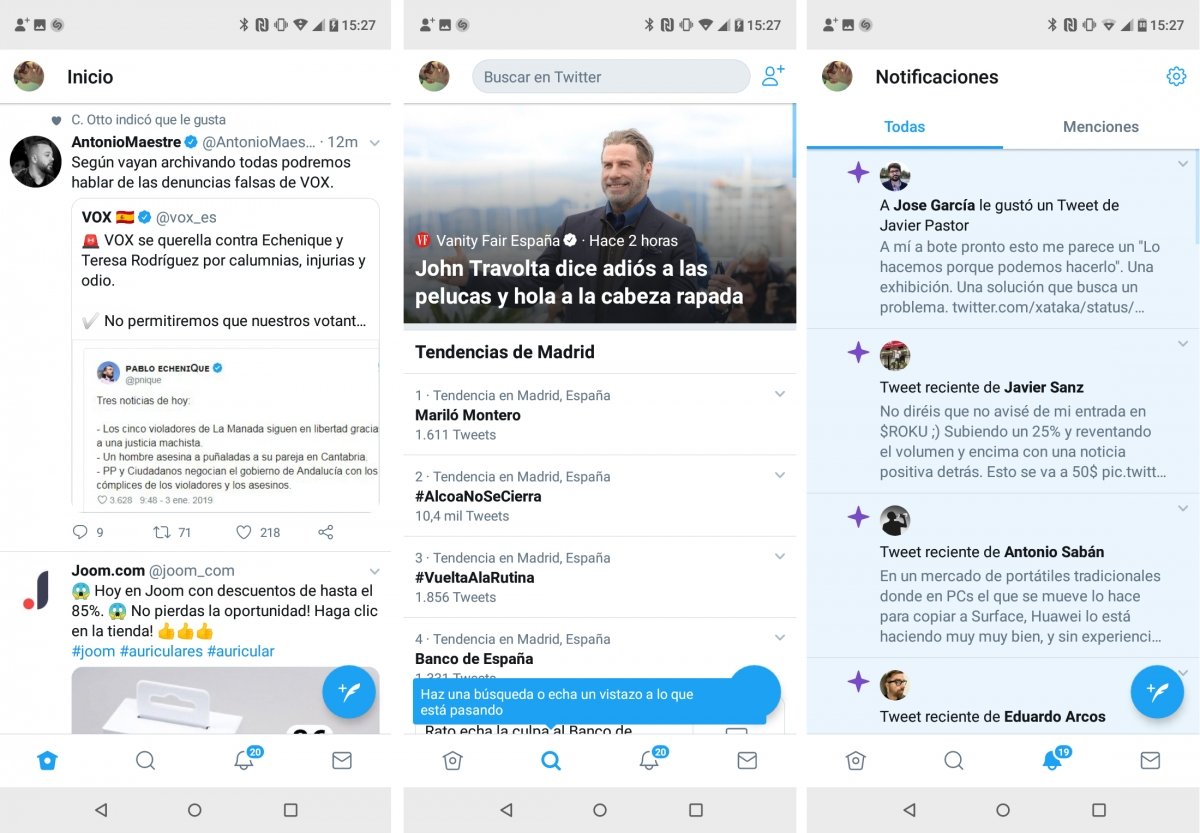 Another of the most popular social networks is Twitter, with its messages limited to 280 characters and a good community absorbed in telling the world about their things. I honestly care little or nothing about what its users say, banalities in most cases, but if you see this salvation table in this short text format social network, you cannot miss the APK.
Wallapop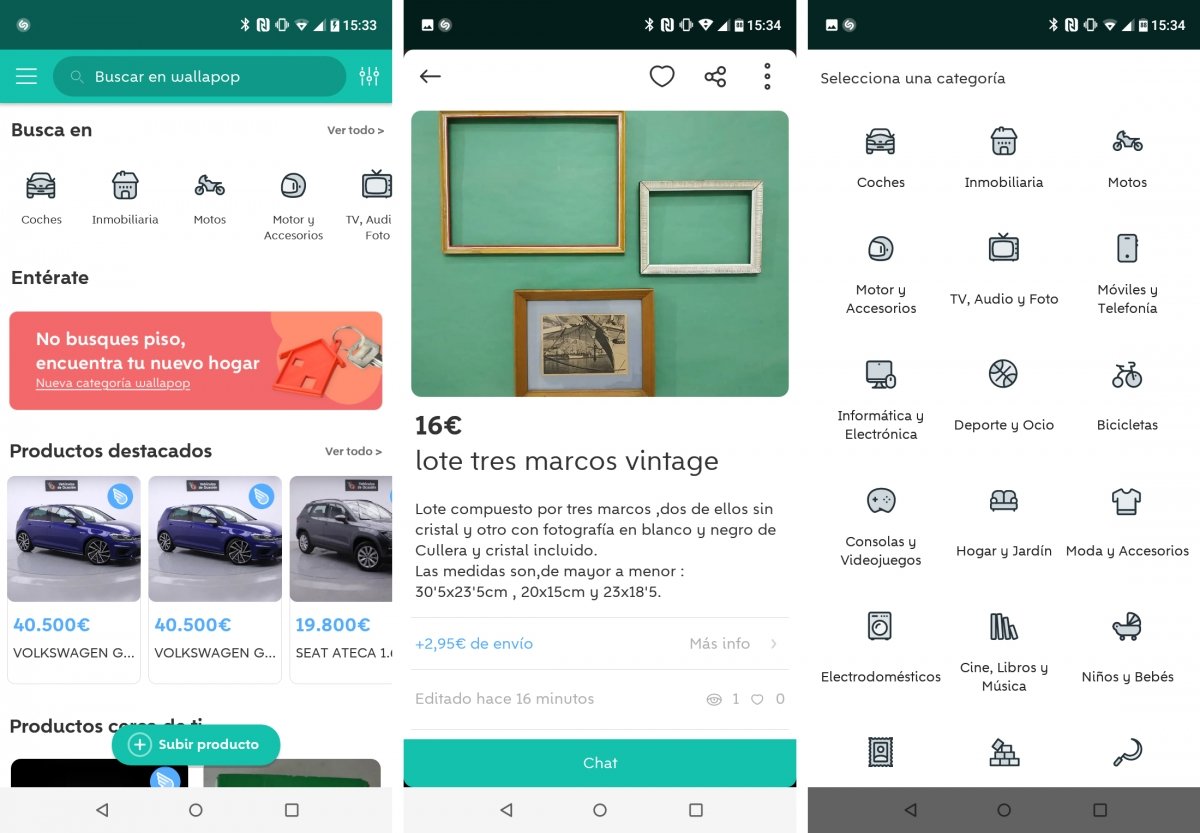 The second-hand market has always been very interesting because it allows you to buy used things at a lower price or to sell your used products directly. Until the appearance of smartphones, it was normal to resort to classifieds. In the new era, classifieds are simply called Wallapop: you establish your location and what you are looking for or sell and enough, to wait for you to be contacted for that product.
Lulubox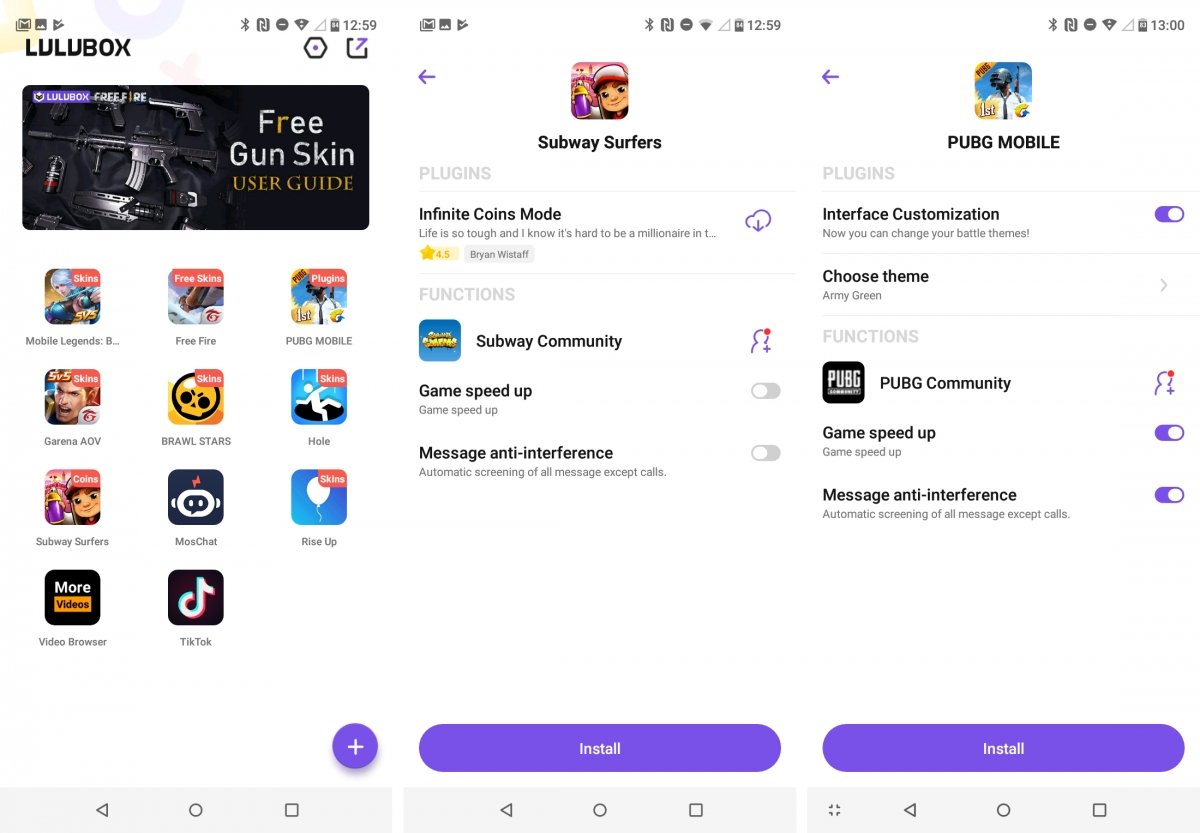 The ideal tool for every gamer, Lulubox is a collection of patches for different games that will give you everything from new skins to free coins. Its operation is quite simple, since it acts as a hack store: you look for the game you want to modify and in a few taps you have it "personalized". Perfect for modders and cheats.
GBoard
Google offers its own keyboard in case you are not convinced by the one included in your personalization layer for example. Its performance is at the level of the best keyboards available, and offers you things like finger-swipe typing, searching for emojis and GIFs, or searching directly in the search engine. Its great language support rounds out the experience.
HBO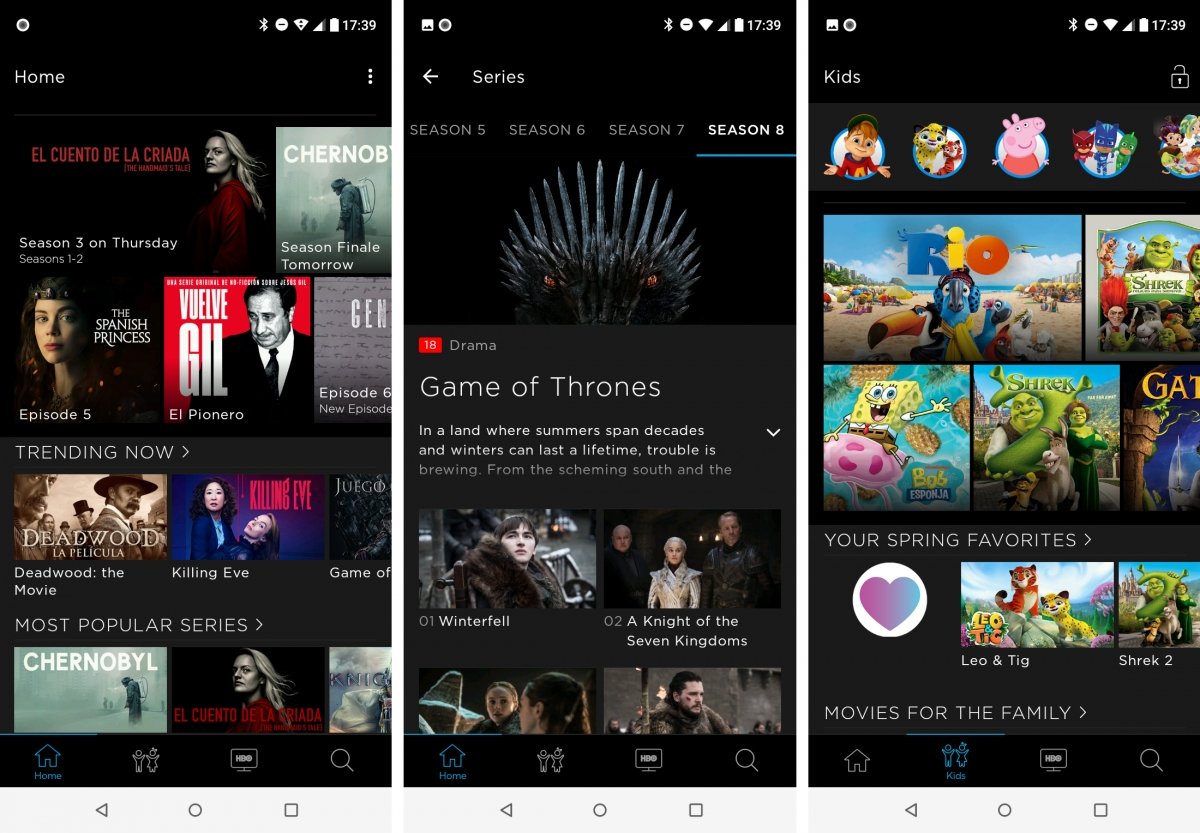 The Game of Thrones phenomenon is back and it is essential to have the HBO app on your mobile to see the latest chapters or the entire series. Whether you are new to the subject or a devoted follower of the series, you are interested in having it, and incidentally, discover the rest of the catalog of one of the most important streaming video platforms.

AliExpress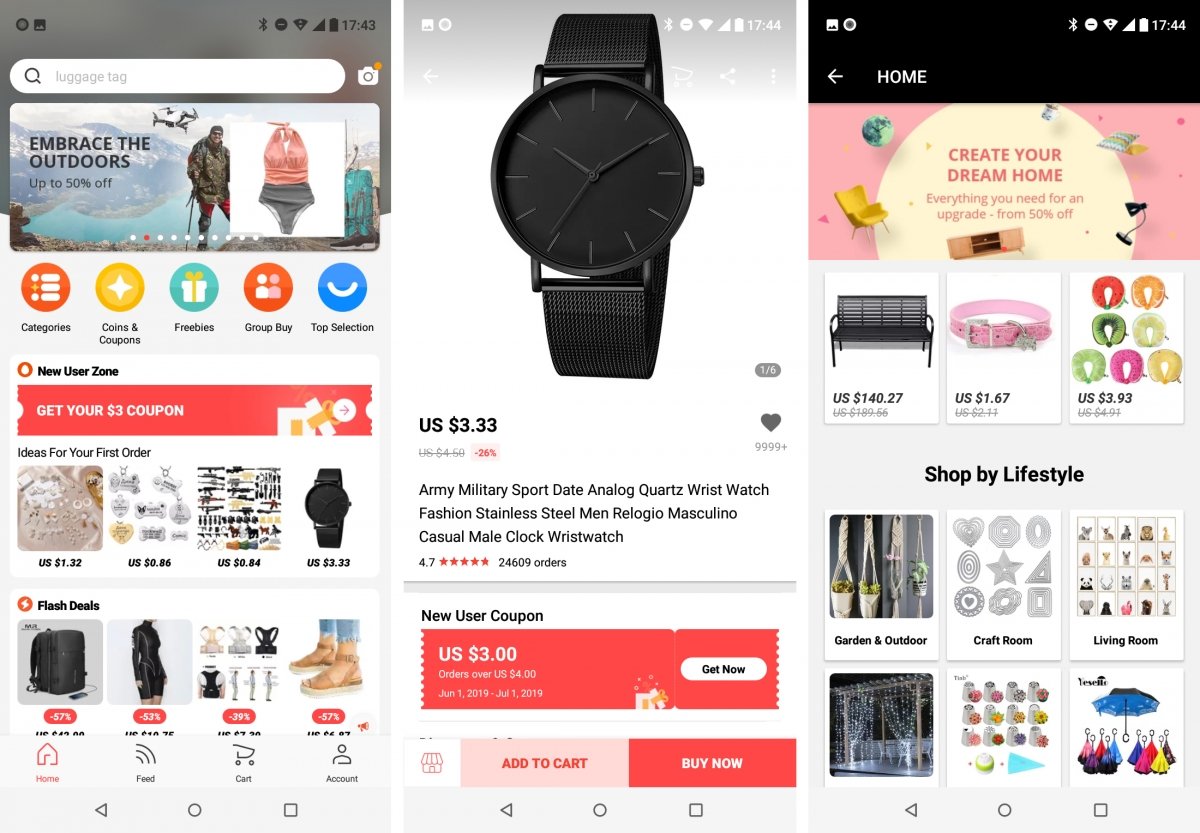 The great Chinese internet shopping giant is the perfect place to find anything. Navigating your product catalog with your Android is easier than ever: see, compare (if necessary, most of the time there is no comparison possible) and buy almost without batting an eye. Beware of compulsive shopping, such a bargain invites you to do so.
Kodi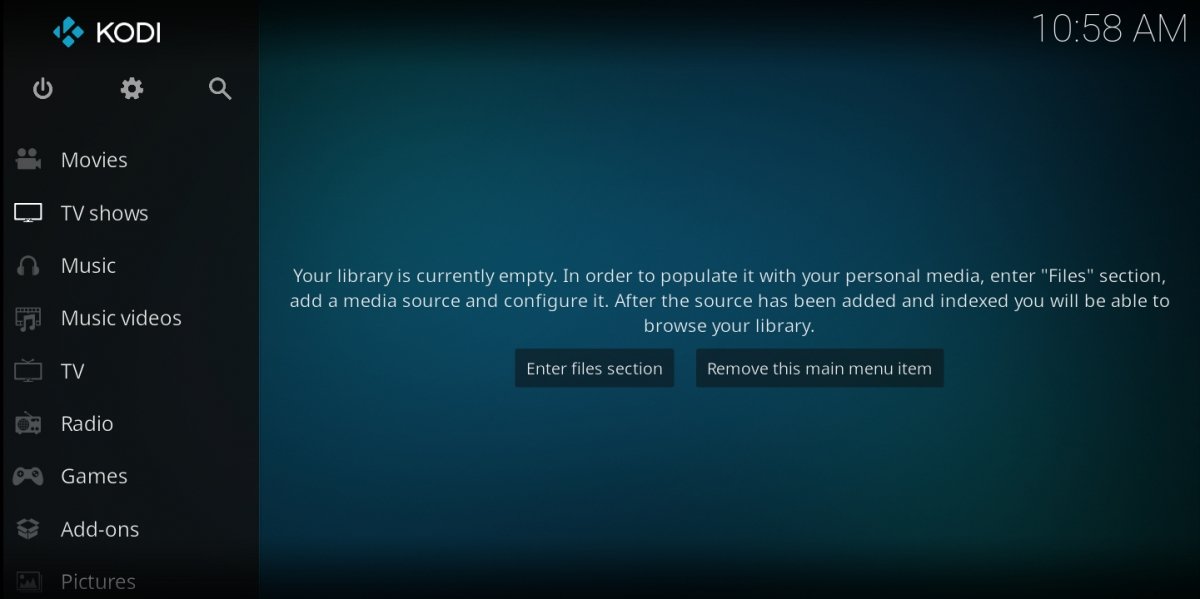 Among the media centers available in the market, Kodi is the best of the best, and thanks to the Android version you can enjoy all its options anywhere. All your content gathered in one place … And a universe of addons at your fingertips to do almost anything you can think of with multimedia content, including watching movies and series for free.
FaceApp
Exact; the app to age faces . In reality it is not a novelty, it periodically goes viral and focuses all the attention following some passing fashion on the Internet, in this case through a filter to age faces. Essential tool for Instagramers that you will be using again this summer.
Discord
Discord is a WhatsApp for gamers, a chat and voice tool designed to put players in contact. You will be able to see which of your friends and contacts are in the middle of the game and communicate with them. A modern chat for video games that will be essential in your day to day when coordinating with the other members of your assault team for example.
VMOS
Although it is less and less common, rooting the phone is something that has all crossed our minds thinking about the advantages it can give us, such as using apps not available in any other way. Of course, the fear of losing the guarantee or completely annoying the mobile phone has always acted as a brake on intrepid inexperienced people. Vmos is an innovative app that essentially installs a second Android operating system: an Android emulator inside your own mobile that also offers a rooted version of the operating system. You can do everything without compromising the integrity of the device and very important, without invalidating the warranty.
Yuka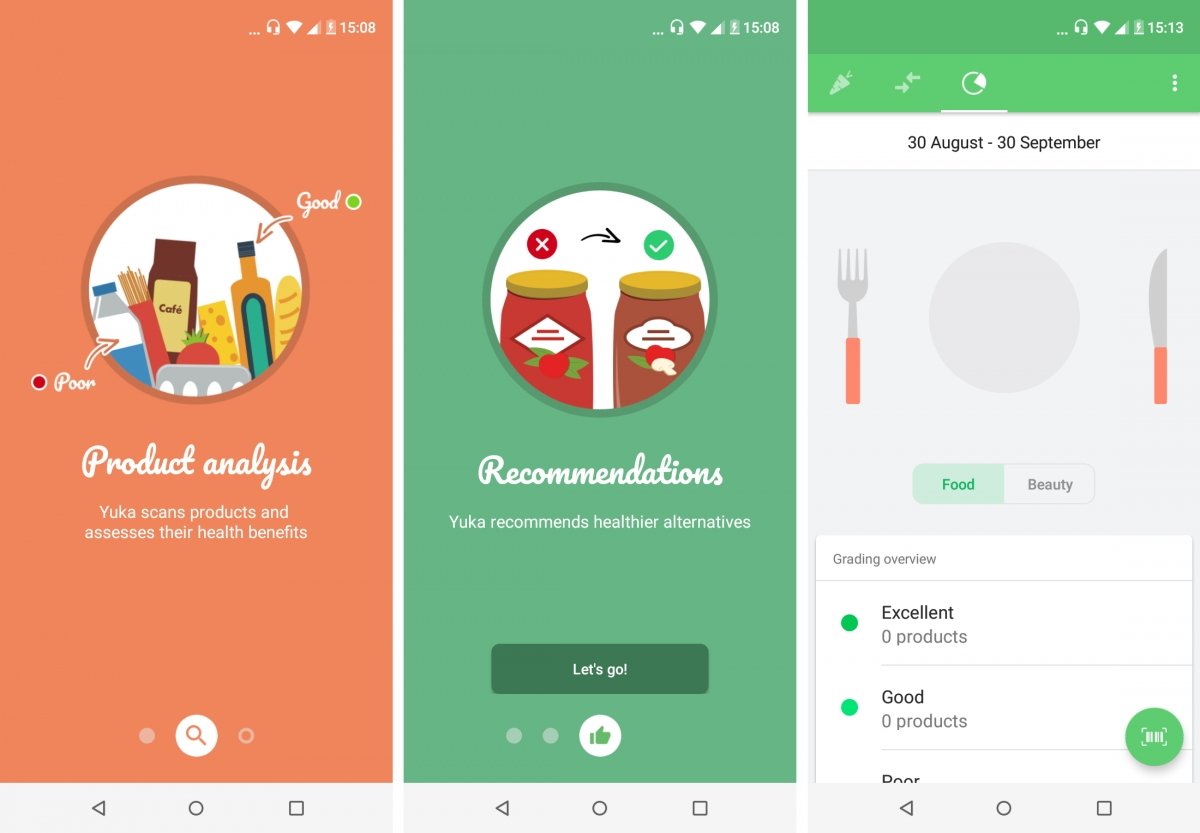 The food and personal care industry has found Android as a powerful ally as evidenced by the appearance of apps like Yuka. It is a food scanner capable of telling us if something is convenient for us or not. Equip yourself with it when making the purchase, scan the barcode of what you intend to put in the car and check if it suits you for the diet you have and therefore for your health and that of yours. A true food revolution in your pocket.
Parallel Space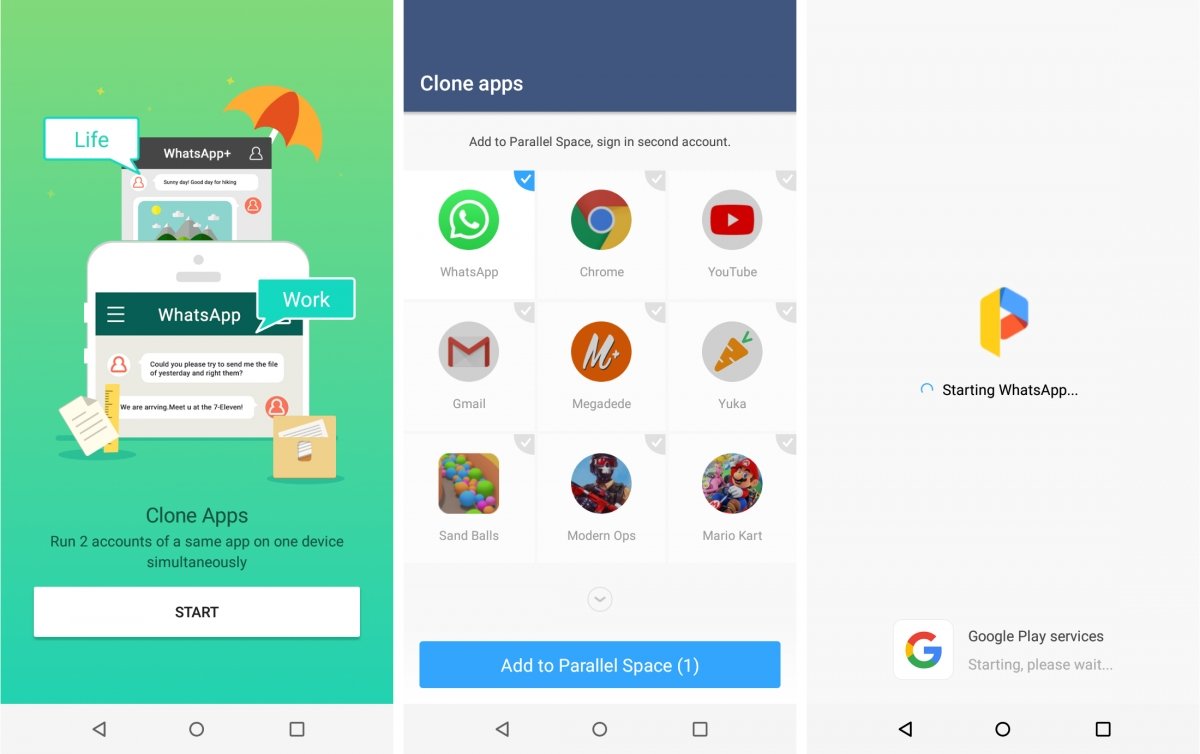 Many apps prevent using two user accounts at the same time. For these cases there are solutions like Parallel Space. As its name suggests, what it does is creates a second independent workspace within our own mobile phone where you can duplicate already installed apps . You can for example install a second version of WhatsApp or Instagram and use them with different accounts. There are several solutions to clone apps, but this is the best app you can use and compatible with as many installed apps as possible.
Disney +
The proliferation of streaming video subscription platforms has also reached the world of animation. Disney now offers its Disney + app where you can enjoy all its content. Yes, we are talking about Mickey and company … but also about Star Wars, Marvel or Pixar productions . You have classic and also current content, both exclusively from Disney and in other projects where they participate. Of course, it is not yet available worldwide, so you still have to wait a bit until you can use it.
Google Recorder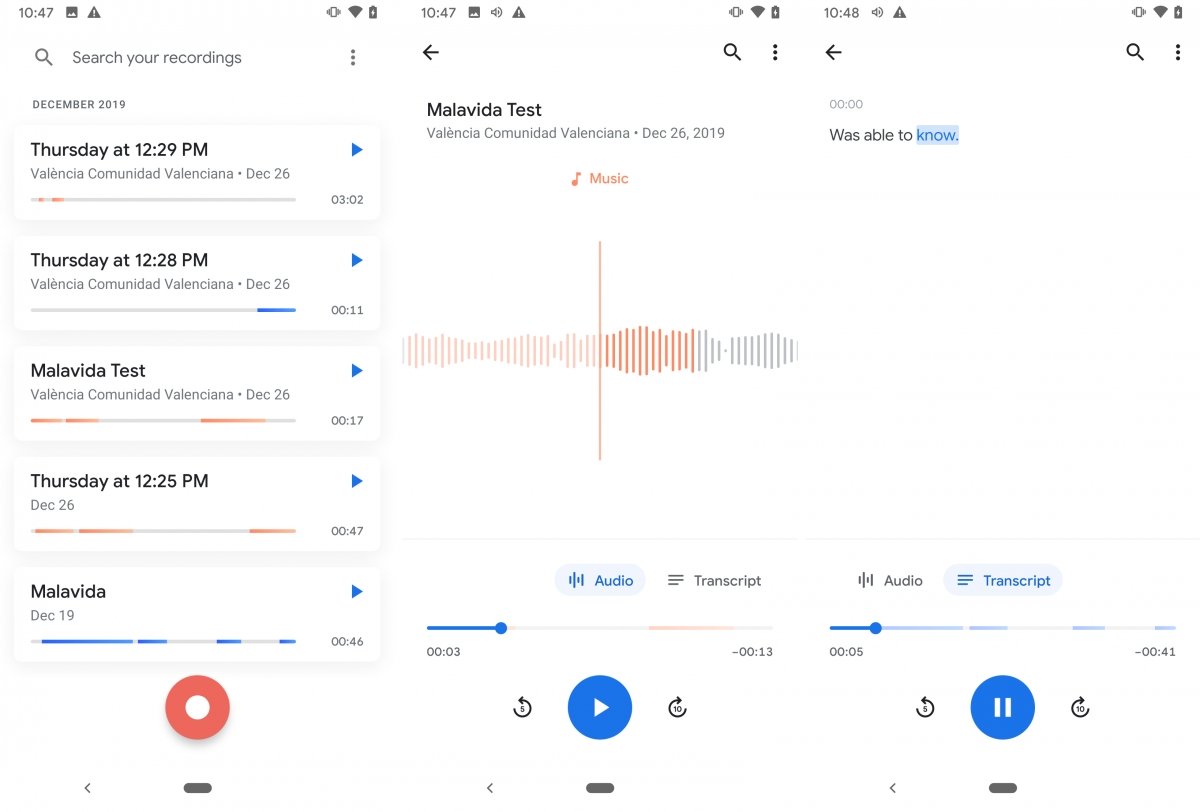 Audio recording and transcription apps are relatively popular, but the technology behind them is not yet advanced enough to make instant and perfect transcripts that we can use without fear. At least until the arrival of Google Recorder, the latest Google tool for these purposes. A real revolution that will free you from taking notes and notes, as it will do it for you. And all respecting punctuation marks, indicating at all times the type of sound captured … The definitive tool to record all types of audio in text with almost absolute reliability.
Amazon Prime Video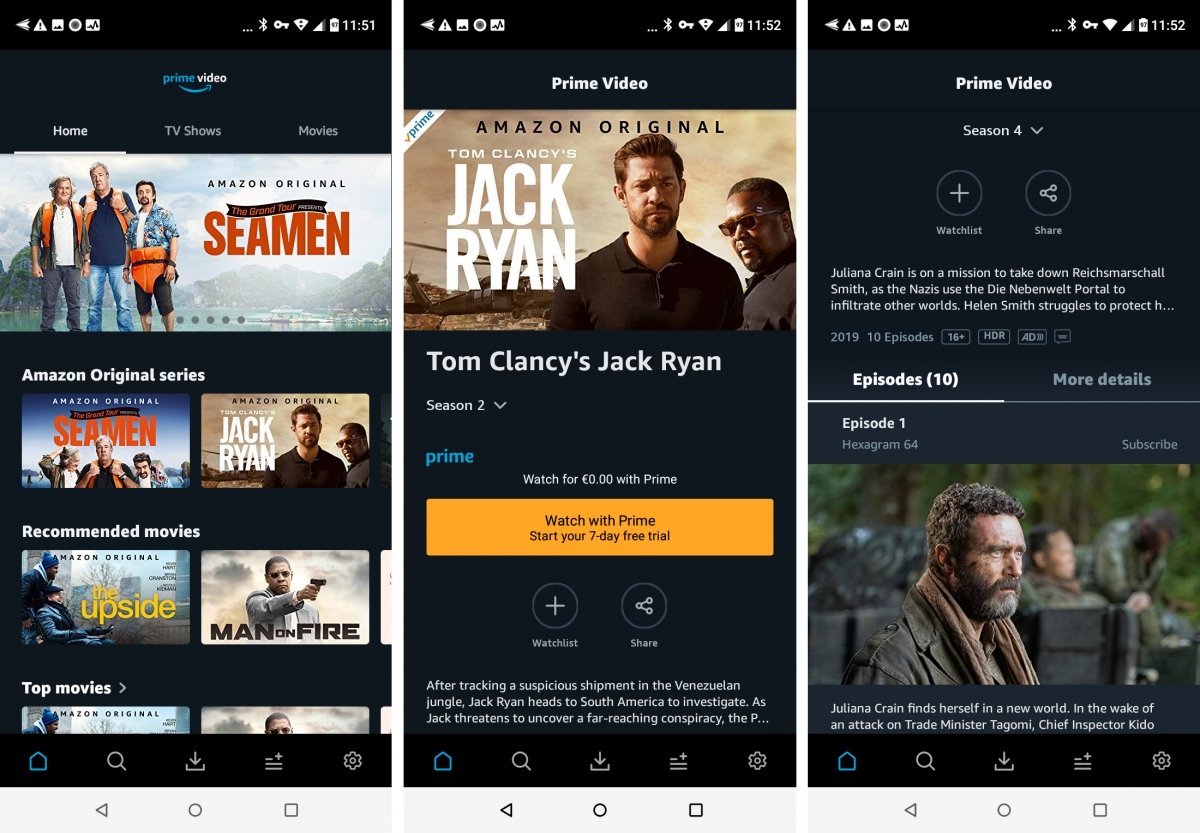 The Internet shopping giant has also set its sights on the audiovisual entertainment sector by offering Amazon Prime Video, its own content platform. As on Netflix or HBO, you will find movies and series of all kinds, with special attention to their own productions, called Amazon Originals , among which are The Marvelous Mrs. Maisel, The Man in the High Castle, Fleabag, Tom Clancy's Jack Ryan , Good Omens… It allows you to download the contents to watch them offline, send the signal to casting devices and even subscribe to thematic channels such as HBO or buy and rent.
AirDroid
When you need to control the content of an Android device from an AirDroid computer it is one of the best options available. You can access all its contents or directly operate the phone with it, answer calls and messages, take screenshots, transfer files, manage contacts, view notifications, make backup copies … The perfect complement for Android and computer users.
Google Meet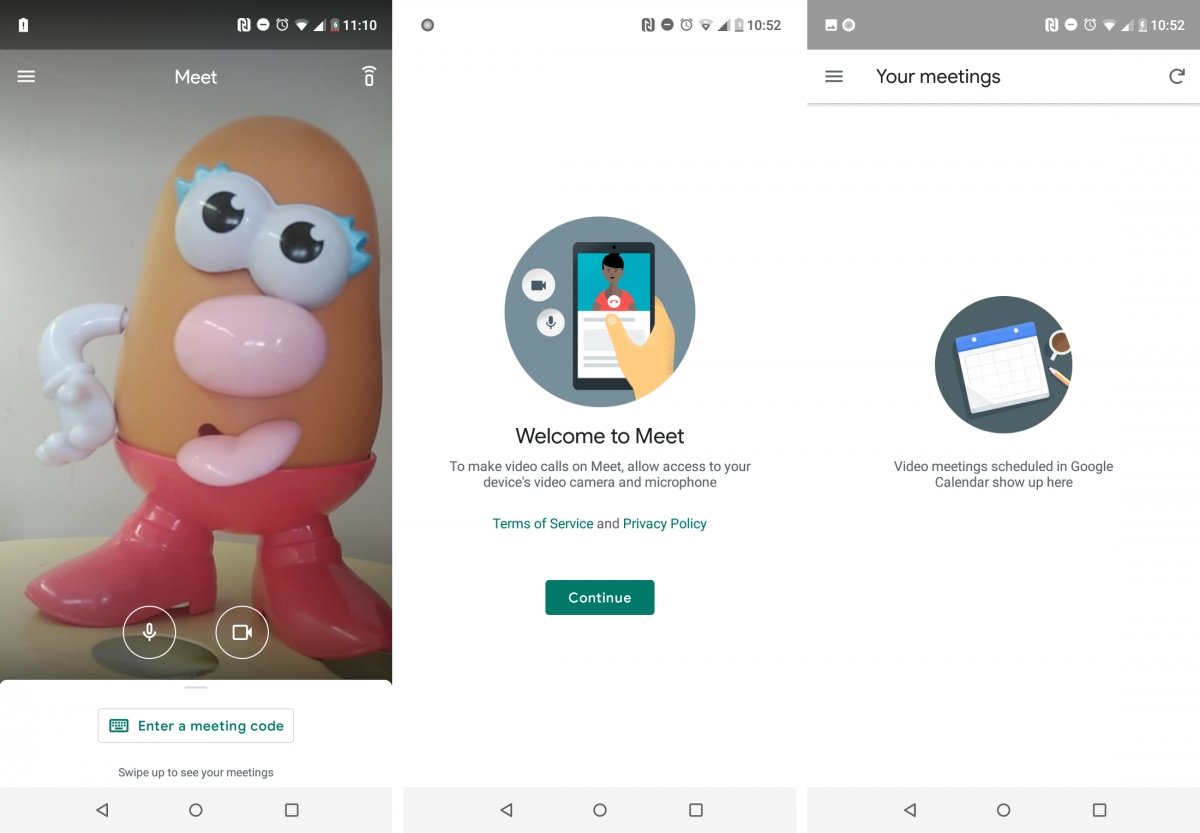 Since half the world has been confined at home, alternatives to telework have flourished. Among them Hangouts Meet, the meeting version of Google's chat and video call tool. This version is optimized to gather up to 250 participants through call and video calls with the best possible quality, it offers everything necessary to make work sessions more productive, including subtitle functions. Your Google account, an Internet connection and the link to access the meeting will suffice.
Houseparty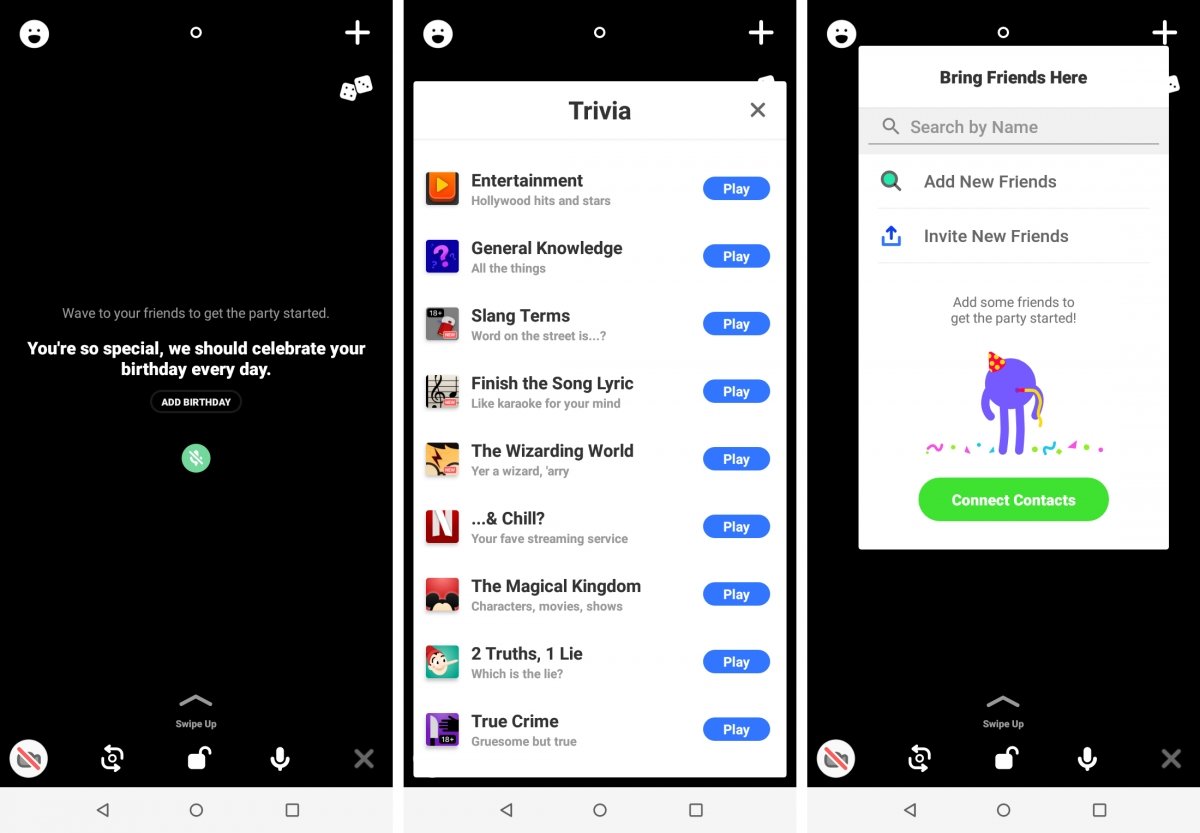 Houseparty allows you to play with your friends and contacts
Playing is one of the solutions against boredom, and today we have the option of playing with anyone wherever they are. Houseparty offers different games with which to challenge your contacts in real time and seeing their faces, you just have to invite or import them from your contact agendas and start a game to any of the available games.
Google Duo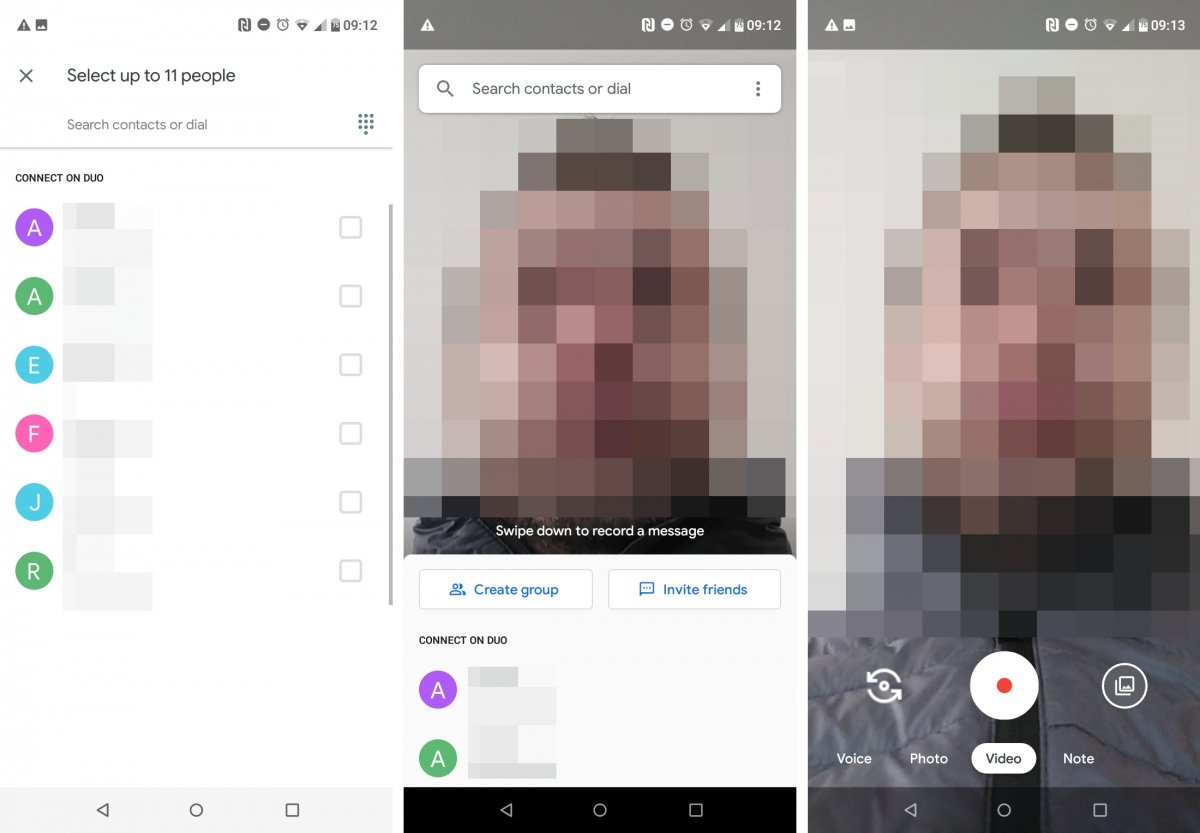 Google Duo allows you to make video calls
As long as the containment measures continue, video call apps will continue to be popular. At Google Duo they have not wanted to be left behind in news including some improvements that place it among the best options available. Improved image quality with less data usage, increased participants, and real-time filters could tip the balance in this field.
Split APKs Installer
Split APKs Installer is used to install chopped apps and create them
It is not uncommon to find APK applications that, for one reason or another, are distributed in what is known as Split APKs, which come to be a sliced ​​installation file . In these cases, a tool like this is all you need to install that app or game divided into parts that you have in hand, or to chop apps that you already have installed.
Sticker.ly
The stickers are here to stay definitively as soon as users were able to get a bit of a tip. There are a lot of stupid sticker collections out there, but what's really cool is taking your colleague's picture and making fun of her in public groups. Sticker.ly is perfect for this, since its automatic trimming tool works very well and allows you to get stickers instantly. With a little skill and imagination you will achieve unique and cutting results. Have you ever thought about making a photo sticker that contains the sticker with the face of a friend? I leave it there: the possibilities are endless.
Roblox
Roblox is not something from 2020 (like many other apps present here). It is not an app as such, but it has more to do with the world of games. But of course, it is not a game, but a platform … Beyond ramblings we are facing a platform with thousands of available games that have been created by the community itself, something like a Minecraft where instead of creating worlds games are created that anyone can enjoy . Its success is unquestionable and it is worth trying if you have (a lot) free time.
Google Docs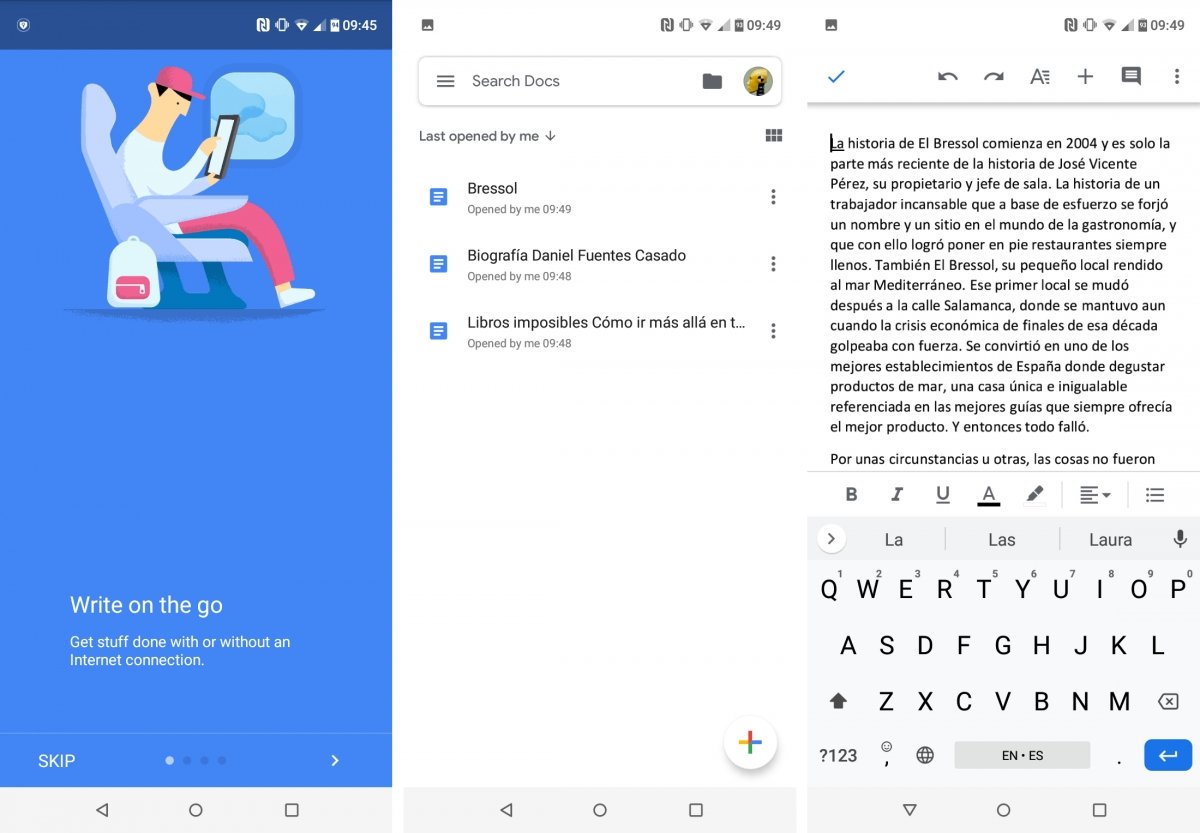 It is not the best place for this type of work, but who has not ever needed to consult or edit a text document on mobile? Google offers its own free Word, compatible with standard document formats such as those used by Word, with collaborative functions for teamwork, usable without an Internet connection and with the usual automatic saving of the platform to avoid accidents among its functions. Essential for everyone who needs to create or edit documents.
Remini
Fuzzy photos are a problem, but before throwing them away try fixing them with Remini. This app is capable of correcting image defects using artificial intelligence. If you have not had a good pulse when taking that photo that you will possibly never be able to take again, and everything has moved or blurred, we recommend you try this solution.

Also Read: